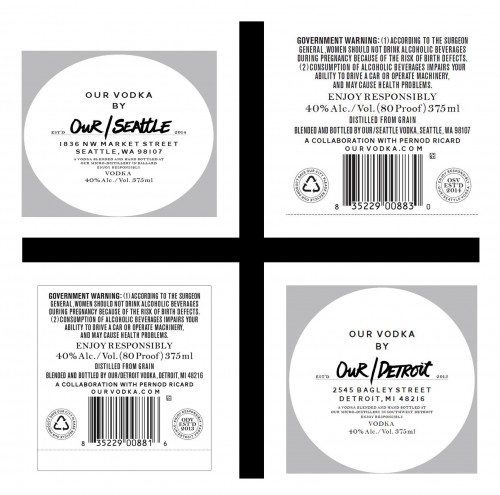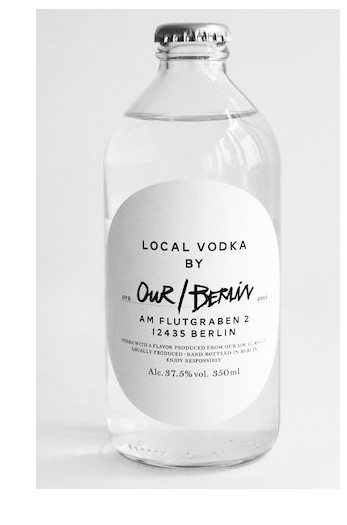 I have been hearing about Our Vodka for quite some time but have not had much chance to scope it out. Now that I found time, I thought there would be a lot more there there. I only see US approvals for two in this series so far, to cover Detroit, and Seattle, as above.
I start this post with a skeptical but open mind, willing to be persuaded that it's a good idea. My skepticism flows from how local can it be, with a company in France and another in Sweden, running the show? It also flows from, if this is really supposed to have some local pizzazz, could there be a worse way to capture its spirit, than from something boiled to and past the point of neutrality — as a matter of law, fact, and science?
The first article I happened upon seems to have readily concluded that it's a bad idea. The Stranger doth proclaim:
Pernod Ricard is the corporation that owns Absolut, as well as Chivas Regal, Jameson, Glenlivet, Malibu, Kahlua, Beefeater, and on and on and on. Its Our/[Insert City Here] local-lookalike marketing scheme was first rolled out in Berlin last year; it's now been installed in, or is imminent in, 11 cities around the world. … Holly Robinson, one of the co-founders of actually local Captive Spirits Distilling in Ballard, says:  "I do believe they will ABSOLUTLY be eaten alive by the community. Seeing they are opening a few blocks away, we are hoping to use some of their dollars to lure more customers to the neighborhood to see our awesome Ballard breweries, distilleries, & such… this is their way to get their foot in the door to a [local] scene that they've [otherwise] dominated for decades."
There's already an Our/Detroit Vodka. Over at Deadline Detroit, Jeff Wattrick has done a fine job of documenting Pernod Ricard's especially disingenuous, icky marketing in Detroit, which manipulates that city's situation in especially disingenuous, icky ways…
Wattrick says:
Craft spirits are a welcome trend. As with craft beer and local wineries, there is something fun about being able to get a well-made drink and then talking with the people who made it about why it's so good. … Unfortunately, as with all things interesting and local, craft spirits have been co-opted. Consider "Our/Detroit" vodka. It's locally produced! It cares about the community! It's a project of the French distillery giant Pernod Ricard Group…wait what? Pernod Ricard, whose brands include Absolut, Jameson, and Seagram and whose annual revenues top $7 billion, is behind this faux-local vodka.
By this point, I am struggling to support this enterprise, or find somebody other than Our that has something nice to say. Let's see, I do give the companies credit for trying do something hard, new, different. It looks like Our has dialed things down a bit, because the first Detroit approval, in June 2014, had a big reference to "Local Vodka" on the front label. But by the time October and Seattle rolled around, this had morphed to "Our Vodka." At least Drink Spirits is sympathetic, saying:
There's no ignoring that Pernod Ricard has a problem on their hands with their major vodka product: Absolut Vodka went from being THE import vodka in the 1980s to being only one of a dizzying number of contenders in the vodka space in the 2000s. The result has been a single digit decline in sales for the past couple of years for a brand that once seemed unstoppable (and given the volume that Absolut has, just a couple of percentage points is a massive shift).

The Absolut Company is set to work with local distilleries around the world, using the same vodka formula, to create vodka using locally sourced ingredients. The theory is that even though the fundamental core of Our/Vodka is the same throughout, the flavor and character of each city's release will be unique because of the variance in flavor and character of local grain (or "locally purchased alcohol of regional descent") and water.

We have no illusions that Our Vodka will move the needle dramatically in either direction for Absolut and Pernod Ricard, but that doesn't seem to be the goal of it. Our/Vodka is the kind of cool and innovative thing you simply wouldn't expect to come out of a giant corporation, and it shows that even the giants understand just how important craft spirits have become. …[W]e expect there to be quite an uproar in the craft space from distillers and their faithful denouncing Our/Vodka as "anti-craft" which completely misses the point. If their aim was to simply have a hand in craft, they could just snap up the often rumored for sale Titos Vodka, which is as good a craft image as money can buy. Instead, they are working with small distilleries, local entrepreneurs (in Detroit, it's three women entrepreneurs. …
The vodka seems to raise some good and important business issues, and I am sure it makes a fine cocktail.