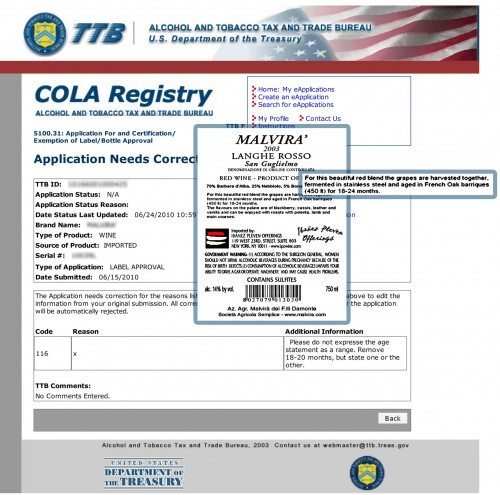 This Malvira red wine happens to mention that the Barbera d'Alba blend is "aged in French Oak barriques … for 18-24 months." Is there anything so troublesome about that? Maybe so. On a similar label (with a different age range), the above rejection shows that TTB would prefer that wine labels show the actual amount of age, rather than a range or guesstimate.
TTB did not cite any specific authority in the rejection above, but 27 CFR 4.38(f) would make it hard for the importer to win this argument. It says:
(f) Additional information on labels. Labels may contain information other than the mandatory label information … if such information complies with the requirements … and does not conflict with, nor in any manner qualify statements required by this part. In addition, information which is truthful, accurate, and specific, and which is neither disparaging nor misleading may appear on wine labels.
The stated range (six months on one and two months on the other) may be accurate and non-disparaging, but it's not especially specific.