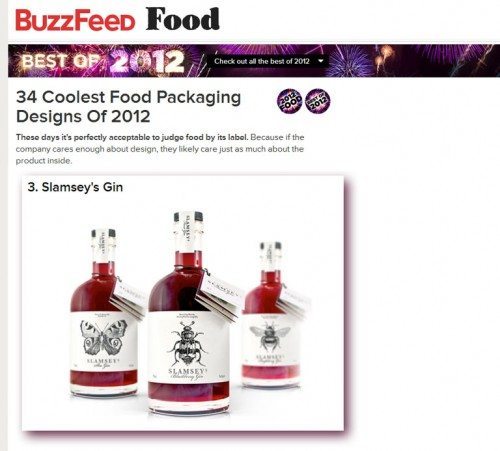 For quite some time, I have noticed that alcohol beverage packaging tends to be prettier than lots of other packaging. Now, perhaps, I am on the verge of proving this hunch, though the manner of proof, in the form of a BuzzFeed article, may be a bit light on evidence.
The article shows the "34 Coolest Food Packaging Designs Of 2012." Of this sampling, fully 20 are beverages. Of those, no less than 13 (more than a third) are alcohol beverages. Not bad, considering all the other categories represented, such as chocolate, cheese, jam, pasta, and bread.
Within the alcohol beverage category, I think the Slamsey's Gin (as above) and Dancing Pines Bourbon bottles look good. I did not notice US approvals for those two, or most of the others on the list, so far. So this may be a harbinger that there is plenty of interesting work to look forward to in 2013. Of the products listed, Kraken Spiced Rum is the most familiar, and the US approval is here.