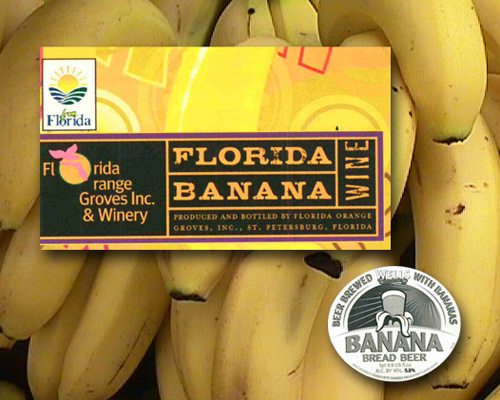 No. It's not banana flavored wine. It's wine fermented from bananas. By contrast, the beer is beer flavored with bananas and banana flavor.
The banana wine (link above) is made by Florida Orange Groves, Inc. of St. Petersburg, Florida. This retailer tends to confirm it's fermented from bananas, and this hobbyist among many others explains how to make it. Does anyone else find it surprising that he uses half a pound of banana skins?
The Banana Bread Beer is made by Wells & Young, in England, and imported by Belukus Marketing of Houston, Texas. Wells explains:
Wells Banana Bread Beer partly takes its name from the Saxon phrase for beer – 'Liquid Bread.' Combining a traditional ale recipe with the flavour of 'Fair Trade' bananas it creates an intriguing and flavoursome pint.