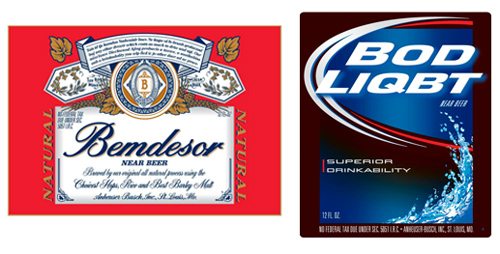 These brand names don't exactly roll off your tongue. That won't stop Anheuser-Busch from bringing them to a TV near you. Keep your eyes peeled for these malt beverage products on TV and in the movies.
A few days ago, The Beersage raised good questions about these labels. At first it was not at all clear, but after some looking around, a good reason comes into focus.
This year's approval for Bemdesor does not shed much light, nor does this year's approval for Bod Liqbt. Go back a few more years, however, and it becomes clear. This 2006 approval for the mellifluous Bemdesor Seqyct quite clearly states:
THIS LABEL IS BEING USED FOR DISPLAY IN MOVIE/TV PROGRAMS ONLY. THE BOTTLE WILL BE FILLED WITH A NON-ALCOHOL PRODUCT IN ORDER TO COMPLY WITH FCC REQUIREMENTS.
A-B has used labels of this sort since at least as far back as 2003; here is an early Bod and here is an early Bemdesor. So far there is no sign of the FCC rule at issue, and it's not the rule cited here. TTB does require something similar at 27 CFR § 7.54(b)(2): "Any label depicted on a bottle in an advertisement shall be a reproduction of an approved label." Here are ten famous product placements for beer (with nary a mention of Bemdesor).