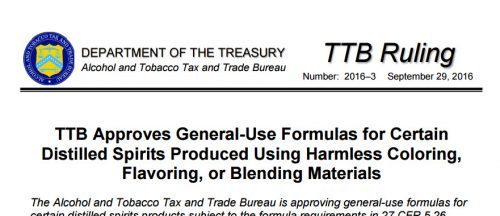 TTB put out Ruling 2016-3 at the end of September. It relates to spirits formula approvals, and is intended to cut some of the burdens for spirits companies and for TTB. It's also sort of long. Word says it is 3,573 (carefully chosen) words. My mission is to break it down to 15% or less.
The gist is, TTB will help you avoid formula approval for many products in these big categories: vodka, rum, whisky, brandy. Some details, on each category, are below. If you want the whole story, you can go to the Ruling, and the elaborations at Industry Circular 2016-1 (for imports) and Guidance 2016-3. Rather than knocking out the formula approval requirements in the spirits regulations, TTB explains: "TTB will not accept for review new formulas submitted for products approved under this ruling. This ruling serves as the approval that is required by §§ 5.26, 5.27, and 19.348."
Vodka

. The Ruling takes advantage of the fact that vodka already has a narrow standard of identity and explains that if you are clearly within it, the Ruling should be used instead of submitting a formula. Only a bit of sugar and citric acid allowed.

Rum

. The standard is not quite so narrow, as compared to vodka, but it's apparently narrow enough. If you only add a bit of sugar, molasses, caramel, the Ruling should be used instead of submitting a formula.

Whisky

. The rule is similar, as to whiskey — except for the reminder that neither straight whisky, nor bourbon whiskey, can have any additives (with or without a formula). The former because that's a big part of what straight means. The latter because the Bureau decided it is not (and should not be) customary to put additives in bourbon.

Brandy

. If you only add a bit of sugar, caramel, fruit juice, wine, the Ruling should be used instead of submitting a formula.
TTB does reserve the right to look into this further, as needed, on a case-by-case basis. The Ruling "provides immediate relief from the formula submission requirements for these specific products."
TTB took a similar action with respect to malt beverage formulas about two years ago. This must have helped, because TTB later expanded this to other malt beverage products. TTB has also, at the end of September, expanded this approach, to wine. We have covered the beer issues in the past, we are covering spirits here, and may cover the wine issues in the future. I am guessing Ruling 2016-3 cuts several hundred formulas per year. LabelVision says TTB approved 748 vodkas in the most recent year (this is a count of label approvals, for unique brand names, on products coded as vodka, since most formula data is not public). A svelte 446 words.