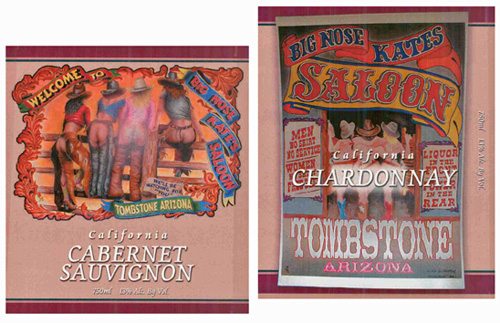 We thought the Rumpmeister dress was pretty short, until we saw this attire (or lack thereof). The Cabernet label, on the left, pretty much speaks for itself. The Chardonnay label has more words, and they are no less risque than the images on the Cabernet label, though they are a bit more covered. The semi-covered words say:
MEN – NO SHIRT – NO SERVICE
WOMEN – NO SHIRT – FREE BEER
Beyond that, the verbiage on the right side says:
LIQUOR – IN THE – FRONT
POKER – IN THE – REAR
We are not sure whether it's more funny, amusing, witty, or embarrassing. It's a little difficult to believe these went right through, way back in 2004.