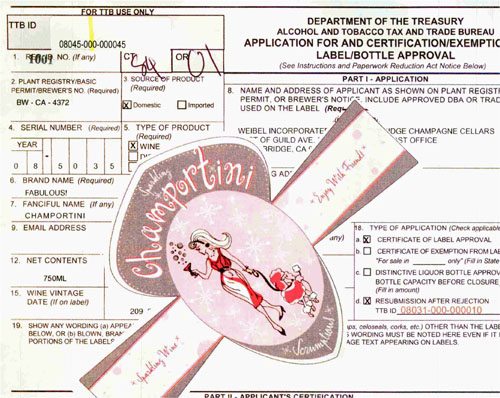 On many labels, it can be difficult to draw the line. For example, it is tough to say whether this PimpnHo label (also by Weibel) goes too far.
But then again, it is fairly clear that Champortini went quite a bit too far.
It suggests Champagne but does not qualify to be labeled as Champagne. It suggests Port but does not qualify as Port. It sounds a lot like martini, but has none of the traditional martini ingredients. This puts the brand out in some rough waters, without the safe harbor of an approval before the crucial 2006 grandfather date set forth here.
Any one of these issues might have been enough to sink this brand, but putting all these issues together, it would be a great surprise if the brand did not sink. It apparently lasted from April 27, 2007 (the date of the first approval) until a little after February 20, 2008 (the date of the third and final approval, as above). There is no trace of this brand's survival at the Champortini website shown on the label.