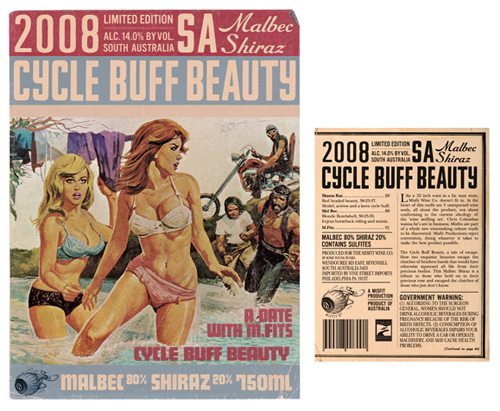 It's not just the bikinis.
Honestly.
It's also the heathens in the background, the witty writing, the just-right art. In very little time and space, this label tells quite a story. The back label for the 2008 Cycle Buff Beauty Australian Malbec intones:
Like a 32 inch waist in a fat man store, Misfit Wine Co. doesn't fit in. … The Cycle Buff Beauty, a tale of escape. How two exquisite beauties escape the clutches of heathen hands that would nave otherwise squeezed all life from their precious bodies. This Malbec Shiraz is a tribute to those who held onto their precious rose and escaped the clutches of those who just don't know.
I wasn't sure what to think about this raw tale. The fenceviewer blog tries to size it up, saying:
Cycle Buff Beauty is, beyond doubt, the kookiest wine we have ever sampled. Also, one of the better ones. … Goes well with steak; ideally suited for brontosaurus. … It is almost as full-bodied and raucous as the bodacious babes on the label. … [It] has attitude [and] astonishing label art.
This story of narrowly escaped rape and murder probably would not be shocking on a TV show in this day and age, but it still makes for a very unusual wine label.