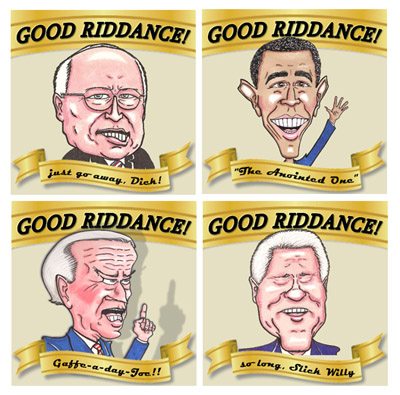 Holy smokes, change really is afoot at TTB. I was startled to see these wine labels recently, with various and sundry famous politicians emblazoned all upon them, and not in the most flattering light. I suppose there is some extra latitude for parody- or caricature-type speech, and there certainly is or ought to be latitude as to political speech. But often in the past, TTB has disallowed presidentially-oriented labels. Just two years ago, the line was drawn here, as to President Obama, and this one seemed to go too far.
The abstraction, in these caricatures, seems to help, as does the absence of the full names. The Horizon Cellars Winery, of Siler City, North Carolina has a large series of the labels depicted above. We already pointed to various labels with Former President George Bush and Sarah Palin in the past, so today we elected to highlight Former Vice President Dick Cheney, President Barack Obama, Vice President Joe Biden, and Former President Bill Clinton.
But there are other reasons to revel in these labels. Any discussion of Joe Biden would be embarrassingly remiss without a fond recollection of that storied day when Joe Biden washed his Trans Am, in cutoffs and no shirt, out back behind the White House.