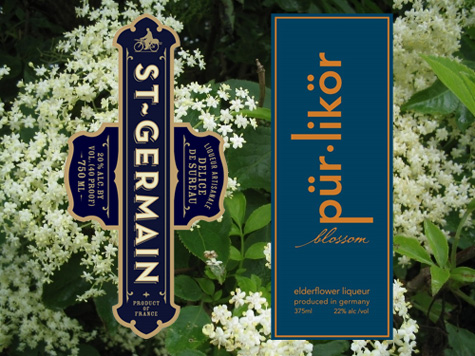 This week we plan to show unusual ingredients — in the form of various flowers added to various alcohol beverages. The first one that comes to mind is St. Germain Liqueur. It is made with elderflowers from the Alps. Jamie Boudreau said:
The thing that blew me away … was not only was it beautiful, but it tasted great. Not overly sweet (for a liqueur) I got subtle flavors of lychee, peach and citrus: complex and not cloying. … This is a versatile liqueur … the elderflowers are hand-picked in the Alps. They are then taken, by bicycle, to market, where they are purchased by the distillery.
The flowers come from the Sambucus nigra shrub. This flower has long been popular in tea, sodas, wine and even soup. A second elderflower liqueur is Pur Likor, made in Germany and imported by Braverman of Seattle, WA.