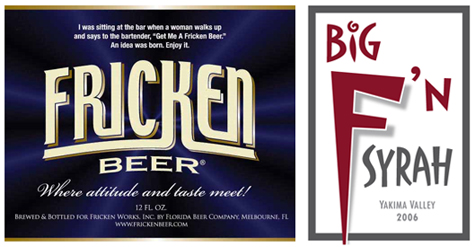 Yesterday we discussed a scholarly article on the F-Word, in F-Words, F-Bombs and Booze, Part 1. That post was long on discussion and short on examples, so here are several examples of approved labels, raising a similar term and topic.
First and perhaps most famous is Effen Vodka. It's possible the brand name refers to something other than what Potts is talking about, but somehow we believe they are thinking of roughly the same thing. As Potts explains, this term has always been mired in ambiguity, and that accounts for much of its power and popularity. The ambiguity also, we suppose, helps it get approved.
Second is Fricken Beer, as above. Indian River Brewing, of Melbourne, Florida, is hoping you too will walk up to the bartender and say "Get me a Fricken Beer." If you don't get slapped, it might be refreshing.
Third is Big F'n Syrah. It is a robust Yakima Syrah with overtones of the F-Word. We have a few additional F-Word labels but please let us know if you see others.