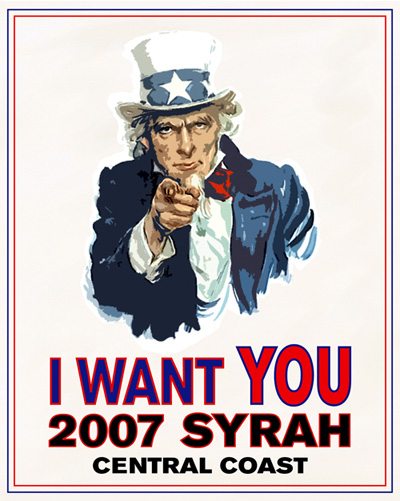 The imagery is still striking, after all these years. Don't you think? So much so, I am surprised that lots of alcohol beverage companies have not used this image in the past. It is also surprising that there is no TTB or other prohibition on the use of this famous image.
The Library of Congress explains that the poster goes all the way back to 1916 and may be the most famous poster in the world. (More famous than Farrah?) It was used to recruit soldiers for World War I and World War II. The original poster shows "Uncle Sam," the "national personification of the United States and sometimes more specifically of the United States government."
The wine is produced by Oreana Wine Company in Santa Barbara, California. For another, almost as famous poster used to support World War II, Rosie the Riveter is here (now in support of Oregon Dry Rosé).