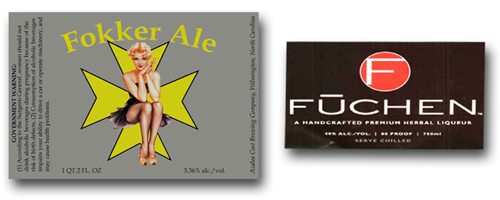 Way back in December of 2008 we ran Part 1 and Part 2. We didn't really expect to see too many more variations on this theme, or that it could go a whole lot further. But alas we may have underestimated the frat-boy contingent of the alcohol beverage industry. Not that we think it does or should offend any "adult beverage" consumer.
Perhaps the liqueur is Chinese and pronounced Fu-Chen. Perhaps the ale is German. It's quite possible that our mind is in the gutter, and these labels have nothing whatever to do with sex, but we wouldn't put any money on it.
Lest anyone be unduly offended, I have two kids and I am pretty sure it would take something more than this to set them off kilter.
The Fokker Ale is made by Azalea Coast Brewing, in Wilmington, North Carolina.
The Fuchen Liqueur is herbal liqueur, imported by BPNC of Temperance, Michigan. We appreciate the irony that this liquor company is situated in Temperance of all places, and a lot of other people apparently felt the same way, as the company has recently changed its name to The Temperance Distilling Company.