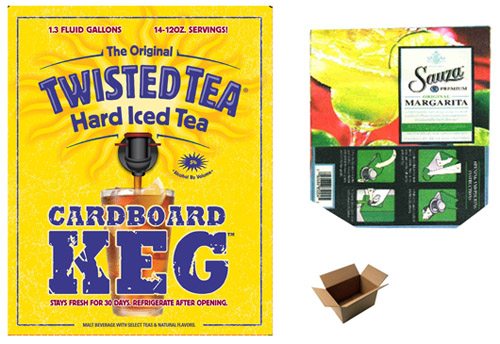 We've come a long way, from clay pots to glass bottles to steel cans to . . . the bag-in-box. The bag-in-box came to wine about 10 years ago and Franzia took it and ran with it (Franzia's website and labels say it's "The World's Most Popular Wine."). But much more recently, the box has come around to package beer and spirits.
Sam Adams Twisted Tea is packed in a 1.3 gallon Cardboard Keg. The box says the beverage will stay fresh for up to 30 days after opening, and that's pretty good for a beer product. The product is classified as a malt beverage with natural flavors.
Turning to spirits, the Sauza Margarita is packed in a 1.75 liter bag-in-box. It is classified as a spirits cocktail, made with tequila and triple sec.