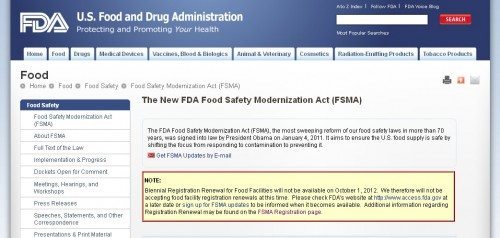 Under the new and important Food Safety Modernization Act (FSMA), FDA was supposed to commence food facility re-registrations yesterday. This was mandated by section 102 of the FSMA law, enacted in 2011.
This piece of the FSMA puzzle is not off to a propitious start. It was bad enough that there was not much guidance or clarity about how this would work, before the October 1, 2012 to December 31, 2012 re-registration period began. But it's even worse that the brief window for required and biennial re-registration began yesterday — and yet there is still no means by which to accomplish what is required. The renewal website was briefly available last week, for a few hours, then it froze, then it disappeared, to be replaced with an oh so calm assurance that:
Biennial Registration Renewal for Food Facilities will not be available on October 1, 2012.  We therefore will not be accepting food facility registration renewals at this time.
Natural Products Insider has explained:
FDA is delaying the registration renewals that are mandated under a 2011 law after the Grocery Manufacturers Association and numerous other trade associations recently sought guidance in meeting the registration requirements.
"It would be extremely inefficient and costly for companies to re-register shortly after October 1st based on the old procedures, only to find out later they have to do it all over again after FDA clarifies the new procedures in its guidance," wrote Leon Bruner, senior vice president, science and regulatory affairs, and chief science officer of the Grocery Manufacturers Association, in a Sept. 21 letter to the Office of Management and Budget. "Thus, it will be difficult, if not impossible, for food facilities to effectively and efficiently meet FSMA's registration renewal mandate without guidance from FDA."
This leaves several hundred thousand food facilities around the world, plus their required agents, with a looming and ever closer deadline, but no means by which to comply with the law.
A few weeks earlier, in late summer, two groups sued FDA "for declaratory and injunctive relief regarding the failure by [FDA] to promulgate final regulations by mandatory deadlines contained in [FSMA]." The non-profit food groups said:
FDA has missed not one, not two, but seven critical deadlines, and counting, in failing to implement FSMA's major food safety regulations. FDA has submitted several of these unlawfully delayed regulations to [OMB], where they are still awaiting approval. However, FDA has authority to promulgate the regulations without OMB approval.
Despite this bump in the road, here's what food companies around the world can do, to avoid missing the renewal deadline. Make sure you have a reputable FDA food agent, if you are based outside the US. Make sure that agent has up-to-date information about your facility. You should be especially careful if your agent hides its true identity, or has vaguely (and confusingly, aggressively, and in many cases not so vaguely) pretended to be affiliated with FDA. Some of the agents charge as much as $900 in the first year. If your US importer, or a friend, has handled this for you in the past, it may be time to reconsider and at least make sure your agent is aware of the changed environment. The law can subject the US agent to substantial liability for the costs related to recalls and re-inspections.
For more information about agents and registration, go to www.food-agent.com. The site is affiliated with Lehrman Beverage Law, a law firm in the Washington, DC area that has been acting as US agent for hundreds of companies around the world, since the earliest days of the FDA agent requirement, almost 10 years ago. Unlike many other leading agents, food-agent works within traditional attorney ethics rules, has moderate fees, and tries to avoid confusing food companies about their identity or their relationship with FDA.
October 19, 2012, 9 pm Update:  FDA has announced that "Biennial registration renewal for food facilities will begin at 12:01 a.m. on October 22, 2012. At that time, the system will be accepting food facility registration renewals."