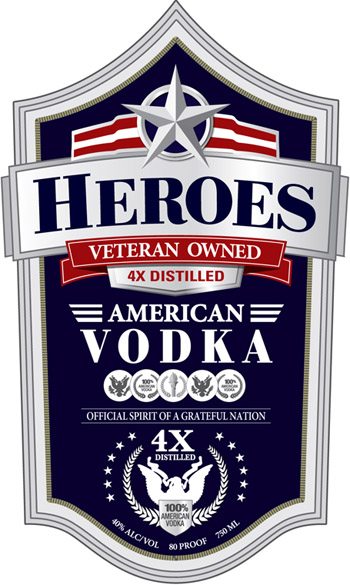 How quickly times and lines continue to change and move. Just two years ago, these various military-themed labels were considered by many to be tacky. In the absence of much uproar, and with plenty of military activities since then, the march of military-themed alcohol beverages continues apace.
Heroes brand vodka claims to be Veteran Owned, all American, four times distilled — and most startling — "Official Spirit of a Grateful Nation." The brand is owned by Travis McVey, a U.S. Marine from 1989-1992. During the past few years, McVey teamed up with Lipman Brothers and Buffalo Trace (bottler):
In 2009, Heroes LLC came to fruition when Travis contacted Robert S. Lipman – a beverage alcohol industry veteran – with a business plan for introducing a hand-crafted vodka to all of the active duty military and Veterans as well as civilians throughout the United States. He anticipated the vodka being made in America with distribution to over 6,000 military bases, 6,000 VFW posts, and 12,000 American Legions posts.
When Travis presented his Heroes Vodka proposal … Lipman was intrigued. The successful entrepreneur,whose family established Lipman Brothers in 1939, has been sitting at the helm of the oldest distributor of wine and spirits in Tennessee for nearly 25 years. Hundreds of pitches pass across his desk annually, but something about this one resonated on a different level.
In a further sign of the times, it took more than nine weeks to get the label approved. In these other instances and different times, it took far less time to get other official-looking spirits labels approved:  2007 (Valor Vodka, two weeks), 2008 (44th Inauguration vodka, two weeks), 2009 (Operation Homefront Bourbon, a few days).