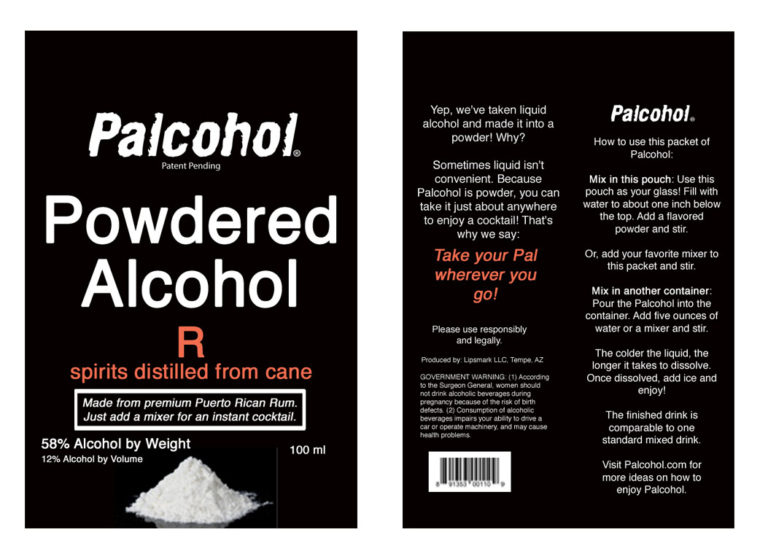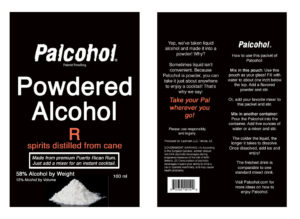 As of April 8-21, 2014, this was approved. The federal government approved this brand of powderized alcohol two weeks ago. The reviewing agency has been TTB (not FDA, as some press accounts have said). TTB is a sub-unit of the US Department of Treasury.
First and for a long time, alcohol was just liquid. Then it was whipped, solidified and almost vaporized. And now alcohol is powderized. A really good TV summary is here.
April 21, 2014, 5 pm ET, Update:  The Palcohol company has surrendered all seven label approvals back to TTB. Here is one of the labels as approved on April 8, 2014 and then the same label as "surrendered" April 21. The differing status is shown at the center of each document. TTB has not said much about the change of course. Palcohol has said:  "We have been in touch with the TTB and there seemed to be a discrepancy on our fill level, how much powder is in the bag. There was a mutual agreement for us to surrender the labels."


May 8, 2014, 3 pm ET, Update:  Sen. Charles Schumer has blasted Palcohol and pressed FDA to step in, during the past week. Many sources and links on web. And, Mark Phillips does quite a good job rebutting most of the critics here.
I am not astonished that this is a real product — but I am absolutely astonished that this got approved. TTB approved seven versions of this powdered alcohol label on April 8, 2014. It is seven labels covering five products (two rum-like, two vodka-like, one Cosmopolitan-like, one Lemon Drop-like, and one Margarita-like).
Related points:
Prediction

.

The system

will

work, if not right away, soon. Rules and rulings will be made. Something like democracy will happen. Most of this stuff would need to go through licensed wholesalers with a strong stake in the status quo, so don't assume they will be eager to carry this. After the initial shock value, perhaps this will be as rare as vodka tampons, eyeballing and vodka injections. Also, the Palcohol company had better get some really, really good liability insurance. Perhaps an enterprising reporter can call some insurance vendors to see if it's available at any price for a product like this.


Patent

Historical context

Mark Phillips, The Palcohol Company, Lipsmark LLC of Tempe, Arizona
The person that pushed this through must be very patient or lucky and/or good. The product seems highly likely to raise a large number of legal issues and controversies. The company's website (as of a few days ago) tended to underscore the controversies, saying:  "What's worse than going to a concert, sporting event, etc. and having to pay $10, $15, $20 for a mixed drink with tax and tip. Are you kidding me?! Take Palcohol into the venue and enjoy a mixed drink for a fraction of the cost." And:
We've been talking about drinks so far. But we have found adding Palcohol to food is so much fun. Sprinkle Palcohol on almost any dish and give it an extra kick. Some of our favorites are the Kamikaze in guacamole, Rum on a BBQ sandwich, Cosmo on a salad and Vodka on eggs in the morning to start your day off right. Experiment. Palcohol is great on so many foods. Remember, you have to add Palcohol AFTER a dish is cooked as the alcohol will burn off if you cook with it…and that defeats the whole purpose.
The current Palcohol website is much more tame and also has a short bio for Mark Phillips, the force behind Palcohol. Over the weekend Mark confirmed that he was in fact quite patient about this; he said:  "The TTB was cautious. It took us nearly four years to get the approval."
California seems to have been way out in front of this with Regulation 2557. We are not aware of directly and specifically relevant TTB rules, and this may well explain why no rules blocked the initial approvals. Many thanks to John for finding these Palcohol approvals among millions of obscure government records.