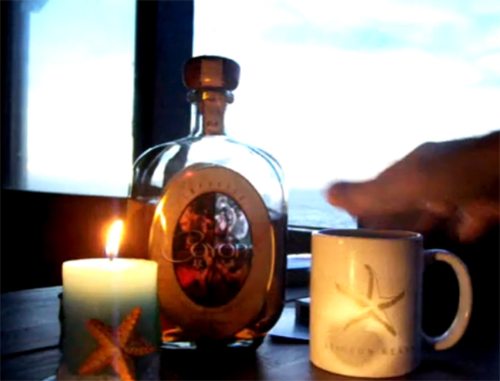 In the last post we showed a bottle that lights up.
This time, we have a functional package that goes a bit further. It lights up and plays music. Thank goodness for this video that captured it in action, before it faded off into oblivion. TTB approved Coyopa Rum back in 2001. At box 17, the approval says:  "Bottle may be equipped to play music (no words or lyrics) … may light up. … 'Label and package made in China.'" Box 16 mentions that it's a "distinctive liquor bottle."
Like a lot of products, it does not seem to have lasted very long. This old, undated article explains:
The idea for Coyopa came to [Sidney] Frank in a dream; a vision of a bottle that played music and was animated. … He hired an engineer to design the electronics for the interactive label, and turned to R.L. Seale, a premier rum producer in Barbados to create the … rum. … "They might think it's crazy at first, or just a gimmick, but once you get a good look at it, you are mesmerized. My Active Label® is a true breakthrough."
Perhaps 2001 was a bit too early; the functional packages seem to be rolling out with greater regularity late in the same decade.