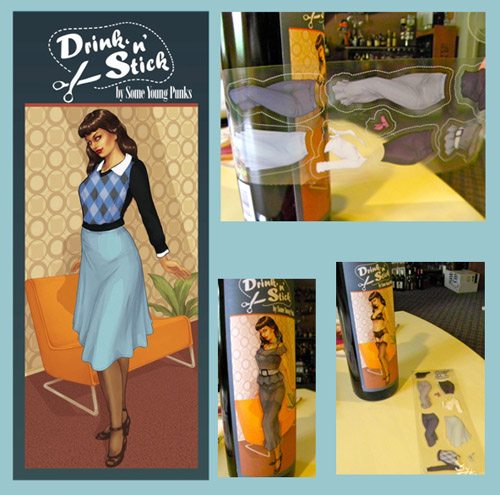 The last two posts showed beverage packaging that serves the extra function of lighting up. Drink'n'Stick doesn't just sit there on the shelf, passively. It is a wine package that beckons you to dress, or undress, the pin-up model.
Like Quickie, this is another great one from Vine Street Imports and Some Young Punks. The latter website says:
Few wines come with instructions — this one also comes with a wardrobe. Peel the clothing from the sheet to customize the accompanying temptress as you drink.
Wine Girl has a good slide show and description. She said:
I was distracted for a full hour by just the bottle. … There is a Bettie Page-esque pin-up girl on the label. There's also a plastic strip that you can carefully unwrap to reveal that our Bettie is actually the equivalent of a paper doll. The plastic strip has all sorts [of] clothing on it. I think I tried almost every possible combination on Bettie before settling on a ruffly shirt and crop pants. Ladies, there are even scarves and hair bows.
You know, the bottle appeals to both sexes, as I discovered in the store. Unwrapped, it's a Bettie Page pin-up in retro lingerie. The guys were all excited. … The ladies, on the other hand, were enamoured with the paper doll aspect.
Not bad if a package can make men and women "excited" and "enamoured" without even opening the bottle.