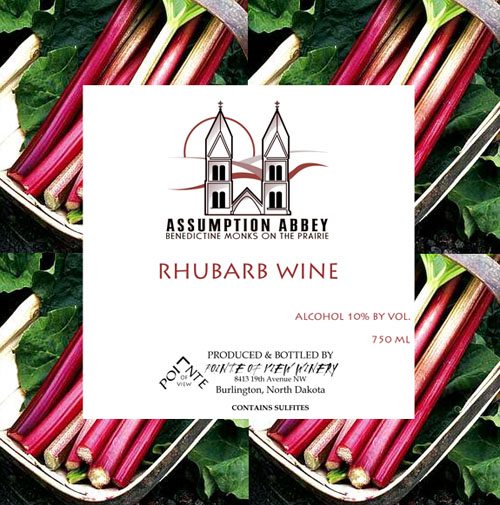 Earlier this week we covered kiwi wine. Today, we go further from grape wine, toward vegetable wine. Rhubarb wine to be exact. Rhubarbinfo.com says it's a vegetable and on this I will tentatively defer to them.
Assumption Abbey Rhubarb Wine is made by Pointe of View Winery in Burlington, North Dakota. The TTB database has many rhubarb wines, and they tend to be made in states not well known for grape wine, such as Kansas, Iowa, Illinois, and Indiana. None of these labels tend to show an appellation of origin or a vintage date. In a good article about non-grape wine, the San Francisco Chronicle explains:
[TTB] allows fruit wine makers to add sugar, acid and water as needed – natural flavors and colors are even allowed – but they don't allow a fruit wine to bear a vintage or place-name the way a grape wine does.
"I think it's a waste to not allow vintage dating," says Koehler. "You have good and bad years for fruit, just like you do for grapes."
Those laws aren't likely to change, if only because of the effort required by the TTB to police them. What does vintage mean to Tedeschi Vineyards when pineapple is available year-round? What does place-name mean to Galarneau when he buys mangoes from around the world?
It is difficult to locate the rules that prevent rhubarb and other non-grape wines from showing the vintage and appellation. Perhaps an astute reader can point them out.