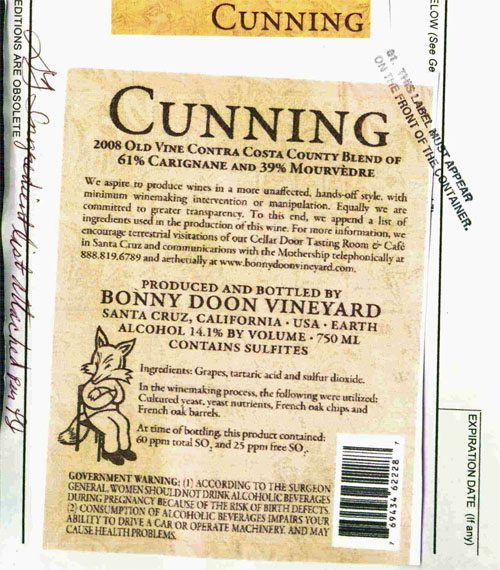 Back in the 1970s ATF/TTB worked vigorously to control wine-labeling, where FDA wanted to get involved and insist upon detailed ingredient lists, as is common on most other food labels. The matter got resolved by way of Brown-Forman Distillers Corp. v. Mathews, 435 F. Supp. 5 (W.D. Ky. 1976).
But this did not stop Bonny Doon Winery. Many of Bonny Doon's labels include quite detailed ingredient labeling, and Bonny Doon has been one of few alcohol beverage companies willing to swim against the tide and volunteer this information. Bonny Doon's Cunning label shows the following ingredients:  grapes, tartaric acid and sulfur dioxide. It goes on to say the product was made with cultured yeast, yeast nutrients, French oak chips, and French oak barrels.
According to Decanter, Bonny Doon president Randall Grahm said:
It's useful to provide more detailed information about the ingredients used in wine production and reduce our dependence on standard wine additions, even those considered to be benign such as tartaric acid, bentonite, yeast nutrients, enzymes, sulphur dioxide.
Let us know if you see other TTB labels with detailed ingredient labeling.