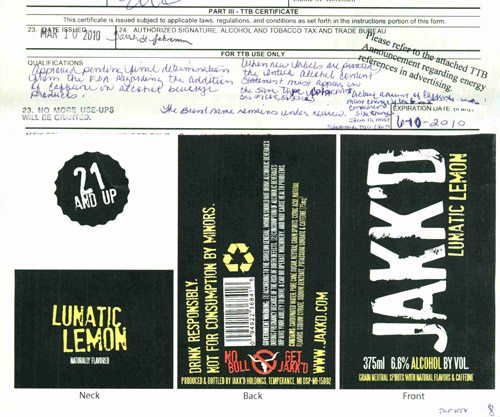 We can learn a lot from this Jakk'd label:
It is one of very few that mentions the amount of caffeine on the label. This is probably a good thing. It is hard to imagine a good argument for disallowing a short, plain statement as to how much of a powerful psychoactive substance is in the beverage you are about to consume. This product has 75 mg. of caffeine per bottle, according to the label. It might be even better if the label used an icon or other simple statement to show that this is roughly equivalent to a cup of coffee.
According to box 19, the brand name does not refer to anything nefarious, and instead refers to the name of the company's founder, and other good things like "cool," "thorough enjoyment," and "being pumped about the greatness of this drink." TTB is not so sure, and noted that "The brand name remains under review."
This is a rare spirits label with an FDA-style ingredient list.
Jakk'd is made in Temperance, Michigan.