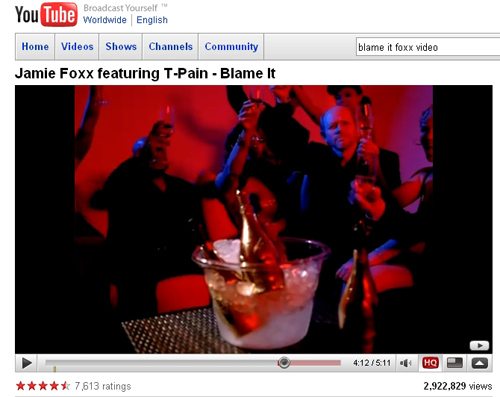 When it comes to the top subjects for music, sex and romance would have to take the cake. There are tens of thousands of great ones, and the total number is too high to count. It is quite possible that alcohol beverages take the number two position, for better and for worse. We can't help but notice a big number of songs about beer, wine and spirits. In this occasional series, we will try to find the songs that are most relevant and timely — especially if they refer to specific brands, social issues, or the law.
Right now, the #4 song in America is "Blame It" by Jamie Foxx. It's about alcohol and shows many famous brands. The lyrics incude:
Blame it on the Goose
Got you feeling loose
Blame it on Patron
Got you in the zone
Blame it on the a a a a a alcohol
Girl what you drinking?
Just one more round and you're down
Blame it on the vodka…Henny…blue top
Couple more shots you open up a like a book
Like it or not, this probably speaks to those under 40 a lot more than any government warning or government report. What message does this song send? Does it glamorize alcohol too much, or scapegoat it too much?