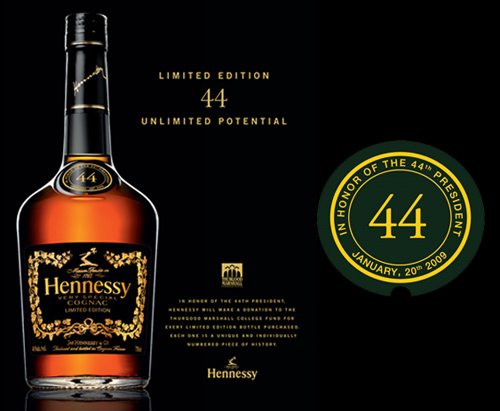 We wrote about President Obama's appearance, on a beer label, many weeks ago. So we were going to leave the above label alone. But the Hennessy label has received surprisingly little press attention, and a reader reminded us about it. The Hennessy label provides a vivid illustration of where the line is drawn, in the matter of Obama-alcohol-beverage-labeling, and how to do it right and wrong. Hennessy got it right, apparently, by avoiding any direct reference to Mr. Obama (by way of name or likeness). They went right up to the line but did not cross it.
By contrast, as to the beer, Jill Jaracz wrote in to say:
Amid all the hoopla over the Presidential Inauguration, the TTB has officially nixed the idea of putting President Obama's name and likeness on beverage labels by denying Ommegang Brewery's application for a single-batch ale called Obamagang that they planned to release around Inauguration Day. TTB denied this label because they do not allow commercial use of someone's name or likeness without that person's permission.
In order to comply with the law, the Cooperstown, NY-based Ommegang chose to rename their product Ale 2009, and the new approved keg label depicts that the beer was created in honor of the Inauguration. However, Ommegang's website still flaunts the ruling a bit by referring to the beer's intended name "Obamagang," and featuring the original images.
Brooklyn, NYC's Sixpoint Craft Ales had registered the name Hop Obama Ale a few months ago, but the status of this label is now surrendered.
The Washington Post mentioned Sixpoint's label problem here, and Bill Dowd at The Examiner covered it here.
The Hennessy ad is kind of hard to read and says: "In honor of the 44th President, Hennessy will make a donation to the Thurgood Marshall College Fund for every Limited Edition bottle purchased. Each one is a unique and individually numbered piece of history." TTB helped ensure it would be a limited edition by allowing the 44 label for 6 months and 15,000 cases only.