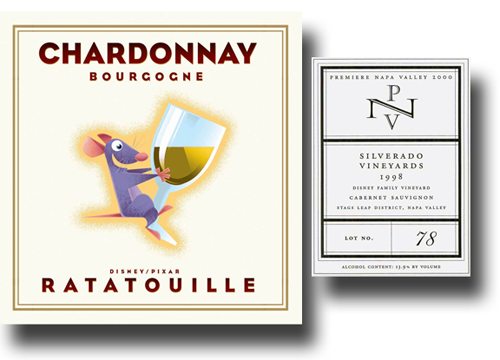 Twenty years ago, wine was wine and Disney was Disney and there didn't seem to be much overlap. Things change a lot.
Now Disney is on wine labels, grown at Disney vineyard, and sold at Disney parks. Winesooth brought this to our attention in the form of the Ratatouille Chardonnay. It has the little cartoon rat on the front label, along with a reference to Disney and Pixar. Back in 2007, Dow Jones said:
Next up: Disney is launching a wine label via Issaquah, Wash.-based Costco Wholesale Corp. that is based on its upcoming animated film "Ratatouille," the tale of a rat who wants to become a French chef. The chardonnay, from the Burgundy region in France and bearing the Ratatouille name and likeness, will sell for $12.99.
Five weeks later, Bizzia reported:
They've come to their senses and plan to back out of the wine market before their wine ever hits store shelves.
Disney, with the help of Costco … , planned to market a wine named after their latest animated film, Ratatouille, with a label featuring the film's main character, Remy the rat.  In my post earlier this month, I questioned why the number one family and children's brand would even consider slapping their brand name and character's image on an alcoholic beverage.  I thought the strategy went beyond the realm of all common sense.  Turns out, I'm not the only one who felt that way.
Disney has been getting backlash from California winemakers and opponents of underage drinking.  It seems the use of a cartoon character that may be considered to target children violates the California Wine Institute's advertising code.  At the same time, the California Department of Alcoholic Beverage Control opened a separate investigation into whether the Disney-Costco wine marketing program might have violated state liquor laws.
Alas, before a full-fledged PR nightmare began, Disney shelved its Ratatouille wine.  Again, I ask, where was common sense during the development of this product?  Didn't anyone in any of the new product development meetings stand up and say, "Wait a minute.  We're Disney.  Maybe promoting liquor isn't the best way for us to go with our brand."  Maybe there were people who raised a red flag earlier in the process, but for some reason the plans went on full force until everyone else on the planet heard about it and said, "What the heck is Disney doing?"
What do you think?  Do you think Disney made the right move by dumping Ratatouille wine?  Do you think they were crazy for putting effort and money into Ratatouille wine in the first place?