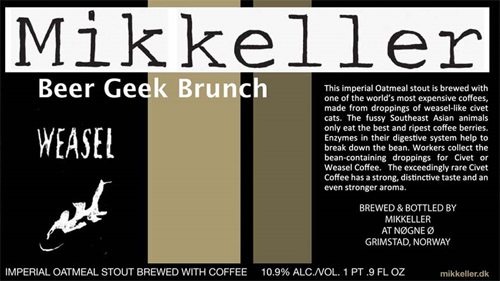 Flying Dog has their "Good Beer, No Sh*t" Road Dog Porter as chronicled here.
The Dog is not to be outdone by the Weasel. Whereas Road Dog, apparently, has no sh*t whatsoever, this ingredient is the centerpiece of Mikkeller Beer Geek Brunch. It is made with weasel excrement. Literally. The label explains that:
This imperial Oatmeal stout is brewed with one of the world's most expensive coffees, made from droppings of weasel-like civet cats. The fussy Southeast Asian animals only eat the best and ripest coffee berries. Enzymes in their digestive system help to break down the bean. Workers collect the bean-containing droppings for Civet or Weasel Coffee. The exceedingly rare Civet Coffee has a strong, distinctive taste and an even stronger aroma.
Lest you be scared away by the "droppings," here is at least one connoisseur who can vouch for it.