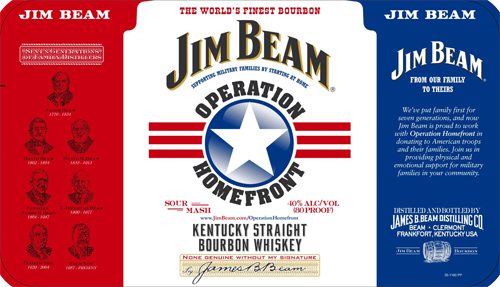 More than six years in, many labels reflect the US at war. Above is Jim Beam "Operation Homefront" Bourbon. The idea is to "provid[e] physical and emotional support for military families in your community." The label doesn't really say how, but the website does.
Brave Spirits was early to link spirits with supporting the military. TTB approved their Valor Vodka back in 2007. Brave donates $2 per bottle toward the military. Valenzano Sangria is the only one that outright shows the American flag; TTB does not usually allow it, but this one is restricted for sale in New Jersey only. Valenzano donates $1 per bottle to "Operation Troop Aid."
The Intoxicologist recently said this form of marketing is tacky. What do you think?


[polldaddy poll=1531438]