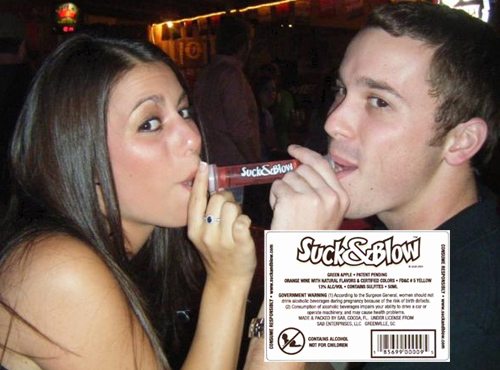 Here is Suck & Blow. It is orange wine with natural flavors. But somehow we don't think people are buying this mainly for the fine wine. It looks like fun. It is one of only a few "interactive" beverages. The producer describes it as:
the only interactive jello shooter that turns an ordinary shot experience into something sexy, fun and extraordinary. It's the unique method of delivery that drives everyone wild and creates an exciting new way for people to drink and meet. It's perfect for livening up a party, energizing a bar and creating an atmosphere of fun and enjoyment. Drinking shots will never be the same.
TTB first approved this in 2004, when it was spirits-based. TTB insisted that the container must include the "not for children" icon. The brand is owned by a couple of blokes in South Carolina, and the product is bottled by Mango Bottling of Cocoa, Florida.