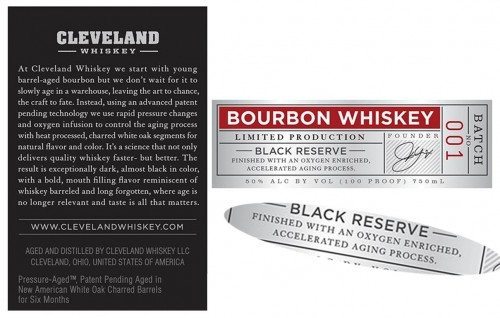 This Bourbon label caught our eye because it makes several big claims. It says:
FINISHED WITH AN OXYGEN ENRICHED, ACCELERATED AGING PROCESS
Patent Pending
Pressure-Aged
"we use rapid pressure changes and oxygen infusion to control the aging process"
"age is no longer relevant and taste is all that matters."
That's a lot of envelope-pushing and innovation for one label. We happen to know a person who is both an experienced patent lawyer and an experienced whiskey distiller. So, in a future post, we hope to have him review the patent claims and assess whether this is closer to an innovation or a gimmick. The Bourbon is produced and bottled by Cleveland Whiskey, LLC of Cleveland, Ohio. The approval is here. Terressentia's closely-related patent, also for aging spirits quickly, is described here.