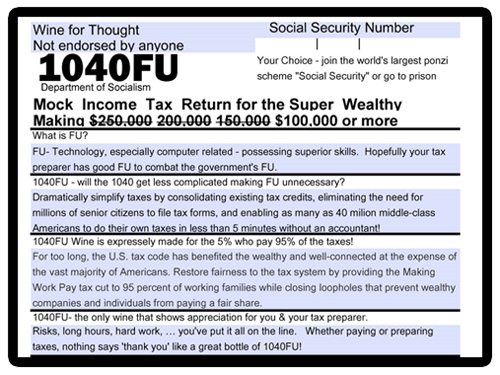 Tensley Wine is not happy with the way things are going in Washington. They claim it took more than a year to get approval on the wine label above. It is no wonder, and it is some credit that our government would approve it at all. Then again, it's not entirely clear that the label is "approved." Box 18c shows that it is an exemption from label approval, rather than a box 18a label approval. Either way, I am pretty sure President Obama (among others in Washington) has a thick skin and can deal with it.
It is clear that Tensley is annoyed, but it's less clear what Tensley is annoyed about. There is some griping about the local bureaucracy, and a lot of griping that federal taxes are too high for some people and too low for others.
The front label notes that the wine has 1% more alcohol than table wine, but is taxed at a rate 235% higher.