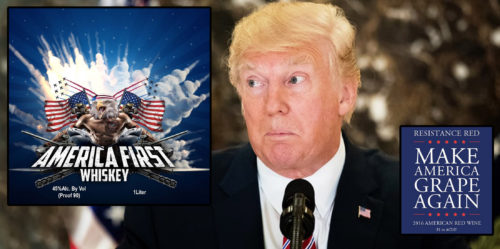 This is not quite the Trump Vodka of yore, but it is quite Trumpy nonetheless. Don't you think so?
The whiskey on the left is America First Whiskey, approved for a DSP in San Marcos, California. I believe I see some sharks and monster trucks to go along with the tanks, jets, and deltoids. I found a discussion about the goals for this label, and it appears that the designer nailed it:  "We want people who love Donald Trump and the idea of "Make America Great Again" to look at this logo and say 'Hell yes! That's the whiskey I want!'" They also considered throwing in some fanny packs, and a T-Rex — but perhaps that would go too far. The bottler proclaimed:  "We're [making a whiskey for Americans]  interested in Freedom, beards, rifles, explosions, The US Constitution, military/veterans, and reflecting on how badass Donald Trump is."
The wine, on the right, is branded as Make America Grape Again, American Red Wine. It is bottled by Azari Winery of Petaluma, California.
And then there is Covfefe, with no less than six related label approvals:
In addition, there are no less than 38 trademark applications including the term COVFEFE.