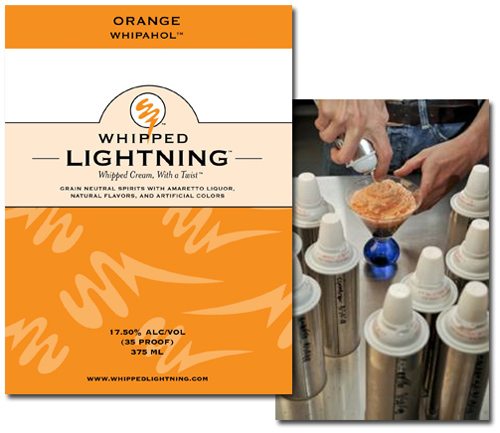 Good idea. A 38 proof spirit in a ReddiWhip can. Somebody should have done it a long time ago. The Atlanta Journal-Constitution reports that:
two Atlanta inventors are getting ready to release a product they think will forever change the world of silly cocktails as we know it. … So original and so potentially game-changing is this creamy newcomer that the inventors had to invent a word for it. … It is a beautiful word, a portmanteau of the highest order, and it tells you all you need to know: Whipahol!
Because of a state law that prevents bars from selling liquor from containers smaller than 750 ml, the Whipped Lightning boys have yet to get a Georgia distributor. So they're beginning with distribution deals in neighboring states and are working toward getting a Georgia waiver.
Maple Grove Products … is the only producer of distilled spirits in the state of Georgia, according to David Dyal at the Georgia Department of Revenue.
This is what happens you combine alcohol, cream, a lawyer, and Devo ("It's not too late. To whip it. Whip it good.").
November 30, 2010 Update:  here is a good CNBC clip on Whipahol, from yesterday. It is hard to believe that this light and frothy product can be portrayed as something sinister, and whipped up into the next "controversy in a can."
December 8, 2010 Update:  the whipped booze products get so very much attention (including our extensive on-air interview with CBS radio) that TTB issues a statement, to explain how such products are regulated.