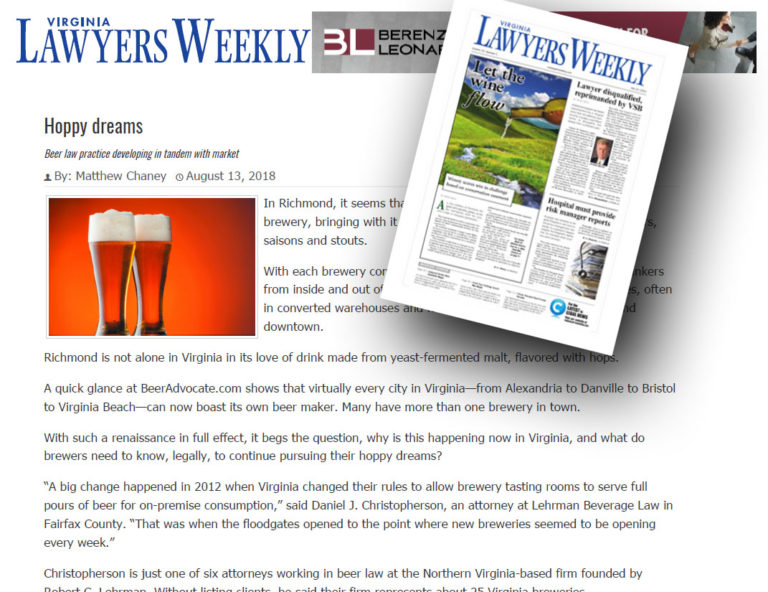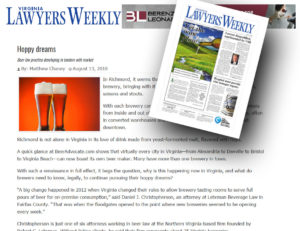 A few weeks ago Virginia Lawyers Weekly recognized our busy, growing beer law practice. The August 13th article, by Matthew Chaney, covered the rise of Virginia brewing in general, and featured our beer law practice.
The article noted:
"A big change happened in 2012 when Virginia changed their rules to allow brewery tasting rooms to serve full pours of beer for on-premise consumption," said Daniel J. Christopherson, an attorney at Lehrman Beverage Law in Fairfax County. "That was when the floodgates opened to the point where new breweries seemed to be opening every week."

Christopherson is just one of six attorneys working in beer law at the Northern Virginia-based firm founded by Robert C. Lehrman. Without listing clients, he said their firm represents about 25 Virginia breweries.

Lehrman, who's been working in the industry since 1988, and at his own firm since 2001, said that he thinks the biggest difference, besides the law, is that people followed the example of successful craft beer companies like Sam Adams and Sierra Nevada.

Apart from the potential for conflicts between brewers and distributors, all three attorneys agreed that Virginia's laws are favorable to brewing, which could also be a factor in the recent renaissance.

"Virginia is a very conducive, hospitable place for food businesses and beverage businesses," Lehrman said. "I strongly recommend companies situate here."
Dan in particular is very active in the Northern Virginia brewing scene. He helped form the Loudoun County Brewer's Association and has served in an advisory role for the organization for many years.