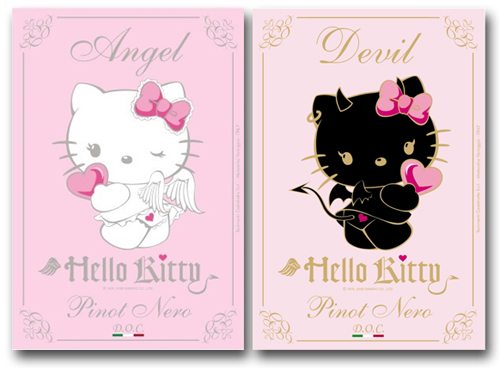 A lot of labels on this blog speak to men. This one speaks loudly to women. Above are two of four Hello Kitty table wines imported from Italy by USA Wine Imports of New York, NY.
Wiki says Hello Kitty is:
one of many simply drawn fictional characters produced by the Japanese company Sanrio. Designed by Ikuko Shimizu, the first product, a vinyl coin purse, was introduced in Japan in 1974, and in the United States in 1976. … The Hello Kitty line has since developed licensing arrangements worth more than $1 billion a year in sales. Examples of products depicting the character include dolls, stickers and greeting cards to clothes, accessories, school supplies, dishes and home appliances.
This might be good for Valentine's Day. Sanrio has licensed an awful lot of Hello Kitty products, and who would not enjoy a Saturday afternoon flaunting their Hello Kitty Lawnmower?