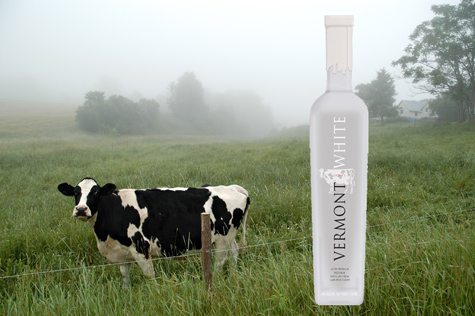 Yes, it's official. You can make spirits from just about anything. Duncan Holaday is determined to show us how. Here is Vermont White Vodka, distilled from 100% Milk Sugar, according to the label. The website for Duncan's Spirits, of St. Johnsbury, Vermont, says:
Inspired by traditional Tuvan milk vodka, this hand-made vodka is triple distilled from pure milk sugar and Vermont spring water. Crystal clear, smooth and with a delicate nose, this vodka is excellent straight and chilled, perfect in a white Russian.
After a year and a half of designing, building and perfecting, the distillery burned to the ground the night before their first delivery. Daunted but not defeated, they rebuilt the distillery, this time with more efficient stills and a wood-fired steam boiler for power. Within six months they were distilling again, and in August 2001, Vermont Spirits made its first appearance in Vermont liquor outlets.
Tuvan milk vodka is mighty obscure; good luck finding any information beyond this. To go with the White, Duncan's also has Vermont Gold. It is "Distilled from 100% Maple Sap." Sounds expensive.