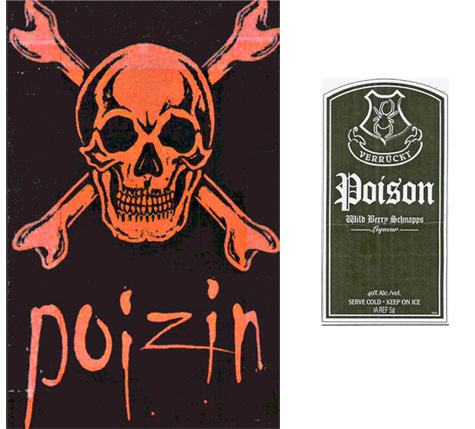 It is no surprise that the anti-alcohol forces of yore regarded alcohol beverages as a poison. Professor Hanson confirms that the Prohibitionists "taught that alcohol was a poison." More recently, this 2008 lawsuit is replete with allegations that MillerCoors is selling poison. But it's quite another thing when the purveyors themselves brand their products as Poizin. The above is a Sonoma County Zinfandel from Armida Winery. A second example is Poison Wild Berry Schnapps Liqueur, approved in 2002. These are not to be confused with Christian Dior Poison Eau de Toilette, or this.
Contributor Lance M. weighed in as follows:
This Poizin, thankfully, will not kill you (well unless you are irresponsible and consume more than your fair share). Armida's packaging of their Poizin is designed to draw your eye. The bottle is black with a red skull and crossbones prominently portrayed on the front of the label. The wine contained is a 2004 Zinfandel, though they continue to produce it on a regular basis, and other years are available.
The thoughtful play on the words poison and zinfandel instantly draws your attention to it. There is some well written dark imagery of a supernatural winemaking process on the back label, that concludes with "Poizin, the wine to die for."
The "Reserve" version of the wine is packed in a pine box fashioned like a casket which has the logo on the lid. In addition, the Reserve version also has the neck of the bottle dipped in red wax. The wine itself is actually very good and true to the Zinfandel pallet; The Wine Spectator gave the 2006 version an 83. The bottom line, not only do you get a nice wine, but a collectible bottle as well.
Does this at long last answer the question at upper left of Liqurious?