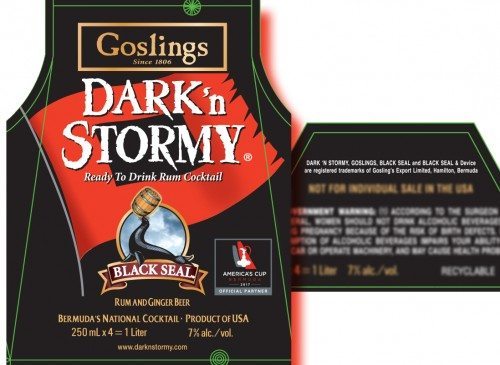 We have been following various cocktail controversies in recent months, and we again thought of this one today because it appears that it got settled in recent days. Regardless of the exact, current, status, the main point remains — it really is possible to get into a full-blown trademark dispute over cocktail names, as this situation shows.
This tempest in a mug is all about … What do you need to make a real Dark 'N Stormy®? According to Gosling Brothers Ltd.—the owner of several registered trademarks over DARK 'N STORMY—any brand of ginger beer will do, but you better use Gosling's Black Seal® Rum. Those planning to do otherwise may want to garnish their cocktail with a large wedge of trademark-infringement-defense.
By Frank Knizner, J.D. and Michael Volz, Attorney

A Dark 'N Stormy®, like a Painkiller®, or a Sazerac™, is one of a handful of trademarked cocktails. On September 15, 2015, Gosling sued Pernod Ricard USA, LLC alleging that Pernod's use of "Dark N' Stormy" and "Black Stormy" in recipes and advertising containing Pernod's Malibu line of rums infringed several of Gosling's DARK 'N STORMY registered trademarks. The case—Gosling Brothers Ltd. et. al. v. Pernod Ricard USA, LLC.—was filed in federal district court in Massachusetts.
The alleged trademark infringement stemmed from Pernod including cocktail recipes on its website for a "Dark N' Stormy" containing Malibu Island Spiced Rum, and a "Black Stormy" containing Malibu Black Rum. Further, Pernod released a YouTube video demonstrating how to make a "Dark N' Stormy" using Malibu Island Spiced Rum. (A lot of the links seem to be now removed.)
As with all trademark infringement claims, the issue here boils down to whether the allegedly infringing marks are likely to confuse consumers. While "Black Stormy" is similar to Gosling's mark, "Dark N' Stormy" is nearly identical to "Dark 'N Stormy®"—the only difference being the location of the apostrophe. According to Gosling, the subtle differences between the marks were not enough to avoid consumer confusion. Specifically, Gosling contended that Pernod's use of "Dark N' Stormy" and "Black Stormy" was likely to confuse customers as to the source of Pernod's goods, and as to whether Gosling approves, sponsors, or endorses Pernod's goods. Gosling claimed that Pernod's use of these phrases was "knowing, willful, [and] deliberate" and was "performed with the intent to trade off of Gosling's goodwill and reputation tied to the iconic … [m]arks." Gosling was seeking treble damages (i.e., three times any actual damages suffered by Gosling), preliminary and permanent injunctions barring Pernod from using the marks, and for Pernod to relinquish any materials bearing the marks.
Pernod's decision to use "Dark N' Stormy" and "Black Stormy" is particularly interesting because Gosling is known to police their trademarks relatively vigorously. Back in 2009, Gosling went after rum producer Zaya for an advertisement suggesting that Zaya Rum could be substituted for Gosling's Black Seal® Rum in a Dark 'N Stormy®. That same year, Gosling sent a cease and desist letter to the blog Inu Ā Kena after it asked readers "what's the best rum for a Dark and Stormy?"
The "cocktail trademark enforcers"—Gosling, Sazerac, and Pusser's—have typically gone after smaller producers, bars, and blogs for trademark infringement. So far, all of these disputes have been resolved well before reaching court. Until this week, this dispute seemed to be headed in a different direction. What's more, unlike its prior enforcement measures, Gosling's Complaint gives no indication that Gosling sent Pernod a cease and desist letter before filing suit.
Until the next sign of a dispute about cocktail names, this controversy should serve as a reminder that it's not just brand names that can cause so many intellectual property disputes in the crowded beer, wine and spirits fields. It is also every part of your website, advertising and yes — indeed — even those cute and witty cocktail names.