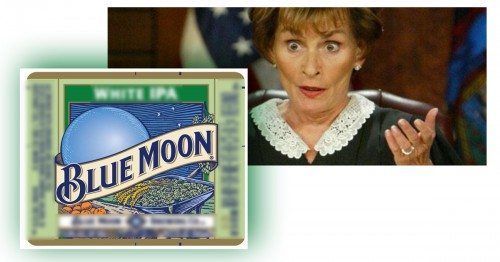 Yet another lawsuit about beverage labeling. This time it's Blue Moon beer. The class action lawsuit (Parent v. MillerCoors LLC) was filed April 24, 2015 in state court, in San Diego. It alleges that MillerCoors is tricking consumers about whether Blue Moon is craft beer.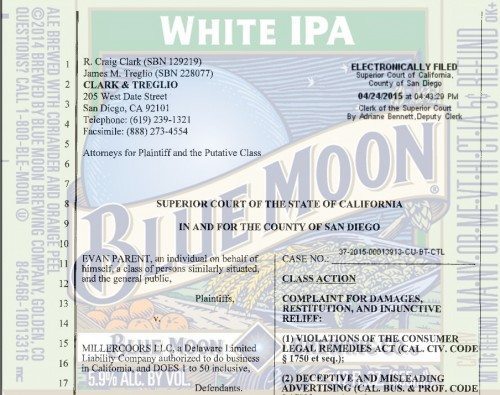 There are now literally dozens of class action lawsuits, filed all around the country in just the past couple of years, in state and federal courts, against many of the most popular beer and spirits products in the country. Wine is notably absent, so far.
The complaint alleges that MillerCoors:
makes more than 2.4 billion gallons of beer a year — about 12 times what the prevailing Brewers Association definition, for a craft brewer, allows
falsely portrays the product as "artfully crafted," when in fact it's a macrobrew
hides the MillerCoors affiliation under various fake entities
misleads consumers into paying up to 50% more, via omissions and misrepresentations
For good measure, the suit alleges:
Defendant's business practices are immoral, unethical, oppressive, and unscrupulous, and cause substantial injury to consumers, including Plaintiff and the other members of the Class. As a direct and proximate result of Defendant's unlawful business practices, Class members suffered injury in that they paid a premium price for a product that would not ordinarily command a premium price, or purchased a product they otherwise would not have purchased, absent Defendant's misrepresentations and omissions.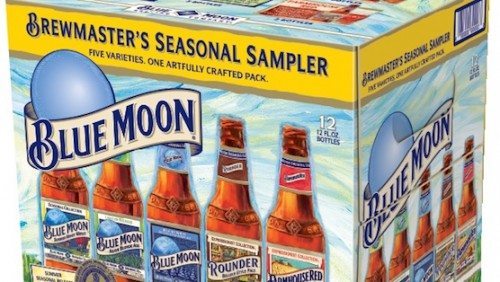 Notice that the lawsuit does not really mention labeling, and instead focuses on "false and deceptive marketing." Notice also that the labels at issue don't mention "craft." TTB has approved the Blue Moon labels something like 300 times since the 1995 brand launch. Here is one of the very few Blue Moon labels that actually mentions "craft" as in "artfully crafted." It's a bit strange that the slogan would be rampant in advertising but barely there on labels. Sometimes TTB's beer reviewer is a bit on the strict side, but here the government has been fairly lax. In fact, in the early days, Coors described this U.S.-made beer as "Belgian" rather than "Belgian-Style." The real Belgian beer companies put this to a stop with another lawsuit.
Plaintiff is remarkably astute about when he purchased Blue Moon, and the BA parameters, but had a weak spot in his discernment, even when his friends tried to give him a clue:
From 2011 until mid-2012, Plaintiff frequently purchased Blue Moon beer… . Relying on its advertising, its placement among other craft beers, and the premium price it commanded, Plaintiff, who is also a beer aficionado and home brewer, purchased Blue Moon believing it was a craft beer, as the term is commonly used by beer consumers and the Brewers Association. [Eventually] Plaintiff was informed by friends that Blue Moon is not a craft beer, but rather a mass produced beer made by MillerCoors. Plaintiff was initially skeptical, but eventually verified the facts through his own research. As a result, Plaintiff has not purchased Blue Moon since approximately July 2012.
No word yet about whether Plaintiff has switched to Shock Top.
The tide is rising:  Tito's, Templeton, Breckenridge, Maker's Mark, Jim Beam, Beck's, Budweiser, Lime-A-Rita, Kirin, Skinnygirl, Tincup, Angel's Envy, WhistlePig, and now Blue Moon. Google says Blue Moons come around every 2.7 years, but the suits are starting to pour in at a far faster rate.