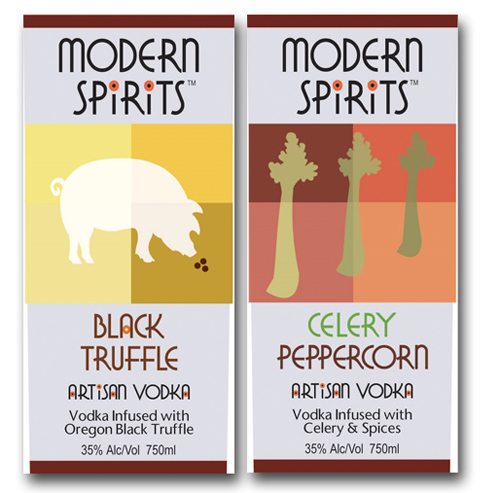 Modern Spirits makes about nine "artisan vodkas." They are based in Monrovia, California.
We wanted to feature them because they tend to gravitate away from ordinary flavors and toward the unusual. Above is Vodka Infused with Oregon Black Truffle. And here is Celery Peppercorn. We don't see any ordinary flavors in Modern's portfolio of "sipping vodkas" which also includes these flavored vodkas:  Candied Ginger, Rose Petal, Pumpkin Pie, Chocolate Orange, Grapefruit Honey, Pear Lavender, Three Tea.
But wait, there's more. They also make "custom vodka" to your individual specifications, as part of their "Haute Custom Vodka" program. It works like this:
Haute is a new line of one-of-a-kind flavored spirits created by Modern Spirits for individual clients to match their unique passions, personalities and palates. Like custom perfume and couture clothing, Haute creations are designed exclusively for each client and are available for their sole purchase. … Upon receiving a commission, we follow a strict five-step process to produce each Haute creation … a personal interview to help us identify [the client's] passions, personalities and palates. … We create up to three Haute samples that combine different base spirits and ingredients from around the world to fit each client's flavor profile. … Submit the formula and labeling for government approval. … Create, bottle and package Haute at our atelier. … Haute is delivered to clients through our partner retailers.
Just imagine what you could concoct for your friends, your enemies, your frenemies.