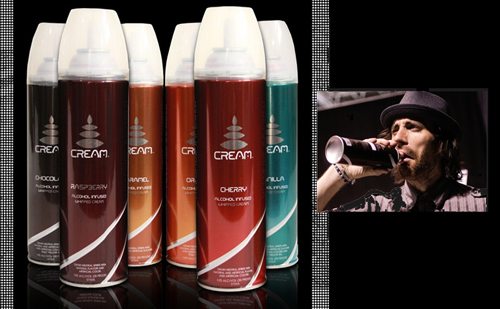 Whipahol must be doing well, because now along comes another "Alcohol Infused Whipped Cream."
It apparently is packed in an aerosol can. The back label says "CREAM is completely shelf stable and DOES NOT need to be refrigerated even after use." The qualifications suggest that TTB wanted to check out this claim. This is canned by Temperance Distilling Company in Temperance, Michigan. For other advances in things whipped, there is Pinnacle Whipped – Whipped Cream Flavored Vodka.
November 30, 2010 Update:  here is a good CNBC clip on Whipahol, from yesterday. It is hard to believe that this light and frothy product can be portrayed as something sinister, and whipped up into the next "controversy in a can."
December 8, 2010 Update:  the whipped booze products get so very much attention (including our extensive on-air interview with CBS radio) that TTB issues a statement, to explain how such products are regulated.