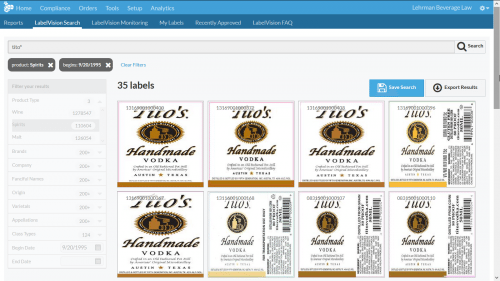 Tito's vodka was doing great for the past 15 years, then hit a gigantic speedbump this week in the form of a class action lawsuit.
Tito's therefore provides a good example of when an approval is not really an approval. Tito Beveridge has more than 30 TTB label approvals for his vodka from 1997 to 2013 (as in the above image, from LabelVision). They may not do him much good in this lawsuit, even though, in years past, most would assume the federal approval would be dispositive. It's a good thing most TTB approvals are not paper anymore because these would "not be worth the paper they are printed on."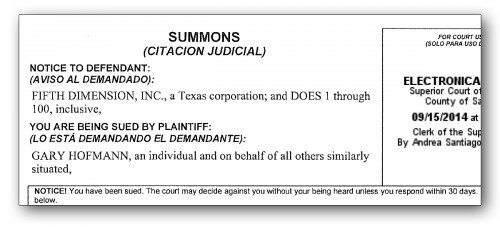 Summary:  in Hofmann v. Fifth Dimension, Inc., Gary Hofmann (a consumer) sued Tito's vodka on behalf of all Tito's customers in California, claiming that the company misleads people about whether the product is "handmade." The lawsuit was filed September 15, 2014 in San Diego county court. The federal government reviewed and approved the Tito's labels, but has no definition for the term at issue.
The classic case of an approval that is not really an approval would be your garden variety Napa Valley Chardonnay, Vintage 2010. TTB will take almost every one of those italicized words at face value. To the extent any one of those words is not true, your approval is not going to help you too much, in the event of an inquiry. Like an IRS tax return, the COLA (and any formula approval) is, to a surprisingly large degree, something of an honor system, stapled together with the penalty of perjury on every such document.
Updates:
9/16/2014: Judge Eddie C. Sturgeon is assigned to handle the case.
9/23/2014: Tito's apparently put out a press release, sketching out a defense. I sure hope they have more. They took a jab at the plaintiff for botching the defendant's proper name, Fifth Generation, Inc. Shanken points out that the brand is at 1.3 million cases per year (that's a lot of hands!). Tito says "he will vigorously contest the lawsuit." Tito largely hangs his hat on the fact that TTB approved the labels.
9/25/2014:  the plaintiff amended the defendant's name, from Fifth Dimension, Inc. to Fifth Generation, Inc. In so doing the plaintiff declared being ignorant of the company's true name, when filing the complaint on 9/15/2024. This is odd because the plaintiff used the correct name on the Affidavit of Venue filed the same day. Plaintiff did a good job covering this point, though, in the original complaint, by saying:  "Plaintiff is ignorant of the true names and capacities of the defendants sued herein as DOES 1-100, inclusive; therefore, Plaintiff sues these defendants by such fictitious names. … Plaintiff will amend the complaint to allege their true names and capacities when ascertained."
9/30/2014: things just got much more serious for Tito, as the case ballooned into a nationwide class action suit. The amended complaint states:  "This is a nationwide class action case brought on behalf of all purchasers of vodka ("Vodka") manufactured, distributed, marketed, and/or sold by FIFTH GENERATION, INC. dba Tito's Handmade Vodka (hereinafter "TITO'S")." Also boding ill, the original and amended complaints refer to Sidley Austin (suggesting that the small San Diego firm on the plaintiff side, may be working with a much bigger firm.) The same small law firm, in San Diego, just recently won hundreds of thousands of dollars in another labeling suit as described here in The Wall Street Journal.
10/3/2014: a copycat lawsuit filed in Florida on 10/25/2014, in federal court this time, under Florida law.
10/14/2014:  and now another lawsuit, this time in Illinois.
10/21/2014:  finally I was able to find a copy of Tito's response. I looked around but was not able to find the press release earlier.
10/27/2014: Tito has a full-throated defense of his vodka today. I think he is saying it is in fact substantially made in a pot still in Austin. In Wine & Spirits Daily he says, "I, Tito Beveridge, believe the pot still distillation process, like that of single malt scotches and French cognacs, is the cornerstone of craft spirits production, period." There are lots of other words in Tito's statement but I can't find much in it to suggest the degree or extent of this much-vaunted pot-/hand-/craft-production. Is it a fig-leaf kind of thing, or the main way the product is made? I see lots of other jazz about foreign companies, etc. but precious little new information about how this product is made, or anything important that makes it any more "handmade" than the next 500 vodkas.
11/10/2014:  another lawsuit, this time New Jersey.

The Forbes article explains:  "Tito's has exploded from a 16-gallon pot still in 1997 to a 26-acre operation that produced 850,000 cases last year, up 46% from 2011, pulling in an estimated $85 million in revenue." The article strongly suggests Tito is about to be a victim of his own success. You can say this post is a prime example of a lawyer taking something clear, like an affirmative, direct approval, and blurring it up to say it's not really an approval. That would not change the messy, complicated reality, that TTB is not the only sheriff in town. We have a "system" and though it may be cumbersome, it actually does work pretty well. TTB approves Palcohol. Fine. That's only one level. Then the private sector jumps in (i.e., us). This triggers the states, legislators, media, trade associations, on and on, to take action. TTB can't and probably does not need to "do it all." Customs jumps in on imports, states jump in on Santa and bitch issues, and now there is a clear right of private action in all such disputes. The floodgates are well open. A few weeks ago, in light of the Pom v. Coke decision, we predicted a flood of lawsuits around label claims. Some said "the sky is not falling." Well, the water is starting to rise pretty high. Tito is up to his waist. Templeton is up to its knees. Bass and Becks are up to their ankles. All from private action with no trace of governmental intervention. Skinny Girl got dunked a few years back and we will need to go back and look to see how much water she swallowed.
The Tito's lawsuit (Hofmann v. Fifth Dimension, Inc.) is here. Some juicy highlights are as follows (and on this page).
This is a class action case brought on behalf of all purchasers of all vodka ("Vodka") manufactured, distributed, marketed, and/or sold by FIFTH DIMENSION, INC. dba Tito's Handmade Vodka (hereinafter "TITO'S"). Through a fraudulent, unlawful, deceptive and unfair course of conduct, TITO'S, and DOES 1 through 100 (collectively "Defendants"), manufactured, marketed, and/or sold their "TITO'S HANDMADE" Vodka to the California general public with the false representation that the Vodka was "handmade" when, in actuality, the Vodka is made via a highly-mechanized process that is devoid of human hands. There is simply nothing "handmade" about the Vodka, under any definition of the term,1 because the Vodka is: (1) made from commercially manufactured "neutral grain spirit" ("NGS") that is trucked and pumped into TITO's industrial facility; (2) distilled in a large industrial complex with modern, technologically advanced stills; and (3) produced and bottled in extremely large quantities (i.e., it is "mass produced").
The plaintiffs are asking for all the money, plus attorney fees, punitive damages, interest, costs, and taxes:  "all monies acquired by means of Defendants' unfair competition."
Right about now, every beer, wine and spirits company should be re-examining their labels, new and old, approved and prospective, and making sure every part is on firm ground. If you lack TTB approval it may hurt you a lot, but if you have it, it may not be sufficient to save you.
* A small disclaimer is, I have no idea about the underlying facts here. I am evaluating this from my couch, based on TTB approvals, public records, the plaintiff's allegations, and the press. We look forward to presenting Tito's side of the story, when it comes out.
[polldaddy poll=8325977]