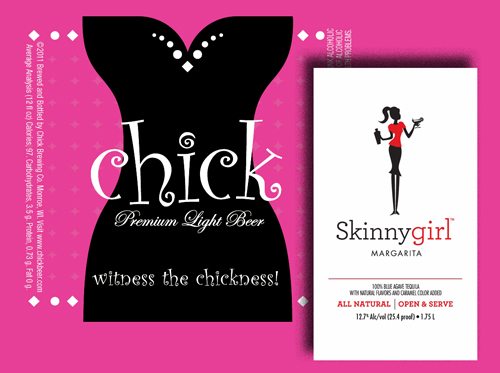 Here is a lot of chickness. Witness it. Chick light beer is brewed and bottled by Minhas Craft Brewery of Monroe, Wisconsin. The website explains that Chick Beer is:  "The beer for women.  A premium light American lager, Chick is the only beer brand designed for women, who drink 25% of all beer sold in the U.S."
Over on the right is Skinnygirl which of course is Tequila with natural flavors. Forbes says Beam paid Bethenny Frankel an "eyebrow-singeing $100 million" for the brand a few months ago:
That deal, which features a multi-year payout along with sales from her ever-expanding line of Skinnygirl products, bolstered Frankel's bank account by an estimated $55 million in the past 12 months, according to sources close to Frankel (she won't comment on the numbers); TV, we figure, earned her a mere $700,000.
The Chick has about 97 calories per 12 ounces of beer, according to the label. And the Skinnygirl has about the same number of calories, per 4 ounces. Neither appears to have any fat.