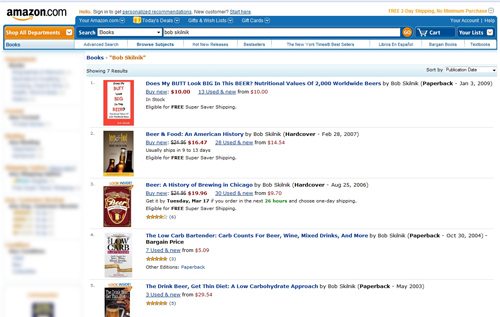 Bob Skilnik has recently published a book entitled Does My Butt Look Big in this Beer? It shows the nutritional values for 2,000 beers, along the lines TTB may soon require on every alcohol beverage label. The book serves a valuable function by providing this information in the here and now, rather than waiting a few years for the rules to kick in. It provides a helpful glimpse of where things are headed. Skilnik has been following the beer business for many decades and has written several books on beer and nutrition. Skilnik says:
Whether brewers, vintners or distillers like it or not, the Alcohol Tobacco Tax and Trade Bureau (TTB), responsible for labeling requirements of alcoholic beverages, is close to making it mandatory for alcoholic beverages to list their nutritional values. … In the following pages, you'll find nutritional information now that will help you to enjoy the moderate consumption of worldwide beer.
Skilnik has collected a lot of information and presented it clearly. The book provides an easy way to see, for example, that among about 100 listed Anheuser-Busch products, there is not a whole lot of variation in alcohol content or calories. The Bud Light Lime is way down around 3.1% alcohol by volume and 116 calories (per 12 ounces). And the Hurricane High Gravity Lager is at the other extreme, around 8.1% alcohol by volume and 188 calories. Neither one has meaningful fat or protein. The vast majority, though, are in the middle, and this is not as much fluctuation as we think most people would assume. I can't imagine it's a leading factor in how big is the look of the butt at issue. For a big fluctuation, Boston Beer's Utopia jumps out, at a whopping 27% alcohol by volume and 732 calories. I like what's between the covers and my least favorite part is the cover itself.
My favorite part of the book is its implicit suggestion that the private sector could conceivably find a better way to provide this information, compared to the old-fashioned way. By old-fashioned way, I mean TTB requiring thousands of alcohol beverage companies to get this done by a date certain, in a manner certain, at huge cost to government and the companies. Instead, Skilnik's book hints at another way. Imagine a scenario where these brewers have the choice to display the nutrition facts panel on their label — or to simply post a link (in the form of an URL or a machine-readable code). This could lead to a scrupulously accurate, monitored, web-based database, setting forth all the same information in the prescribed format. The USDA-approved organic certifiers provide one such example, and ICANN provides another precedent for such a public-private partnership. ICANN is:
the Internet Corporation for Assigned Names and Numbers. Headquartered in Marina Del Rey, California, United States, ICANN is a non-profit corporation that was created on September 18, 1998 in order to oversee a number of Internet-related tasks previously performed directly on behalf of the U.S. government. … ICANN's tasks include responsibility for Internet Protocol (IP) address space allocation. … More generically, ICANN is responsible for managing the assignment of domain names and IP addresses. … On September 29, 2006, ICANN signed a new agreement with the United States Department of Commerce (DOC) that is a step forward toward the full management of the Internet's system of centrally coordinated identifiers through the multi-stakeholder model of consultation that ICANN represents.
This would probably be much easier for the companies, and TTB, and lead to much more consistency. Until then, Skilnik provides a valuable service.