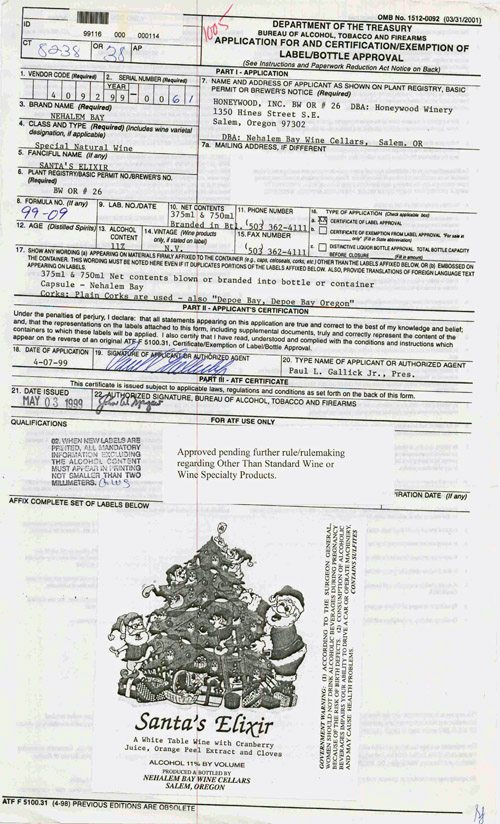 Most people assume TTB would be okay with the second word but not the first. Actually, it's the other way around. The federal government is okay with Santa, but is not fond of his elixir.
TTB asserts, from time to time as the issue arises, that the term "elixir" ought not to be allowed, because it would tend to suggest that the alcohol beverage has medicinal properties. That's a big no no.
Good old Webster does not really disagree, and defines the term as:  "a substance held capable of prolonging life indefinitely." Hence there are very few "elixir" approvals after about 1999.
We don't normally show the whole paper COLA in the space above. But the paper COLAs are getting fewer and fewer, as the bulk of labels are submitted via COLAs Online. The above is starting to look like a fondly remembered antique. This 1999 approval, for Santa's Elixir wine specialty, is one of the oldest readily available in TTB's Public COLA Registry, because it starts showing images in about 1999. Adding to this approval's old school quaintness, I believe I see indications of a typewriter, a Xerox machine, and perhaps there is some Wite-Out lurking in the shadows.
I am writing this about a week before Christmas, but now that we've established that Santa will be okay, let me take this opportunity to wish happy holidays to Margie, Corianna, Sydney, Inci, Marguerite, Monica, Gary, Dave, Brittany, Keenan, John, Jaycee, Alyson, Jon, Meralyn, Vince and all friends of the firm far and wide.