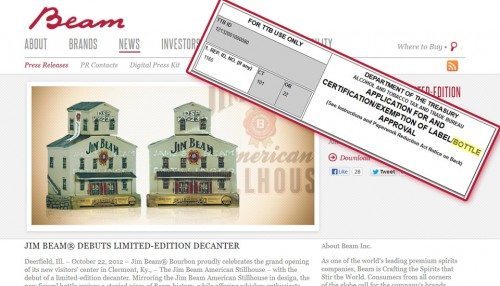 Most people call them COLAs or FLAs (federal label approvals) or "label approvals." But those terms leave out the not so minor B — as it appears in the word "bottle," highlighted above. TTB's pre-market approval system extends to bottles, and it is starting to seem like many people forgot about this or never knew.
TTB's bottle review probably does not cover run of the mill bottles. It is meant to cover "distinctive bottles." The COLA form mentions that you must complete item 18.c. "if you intend to bottle distilled spirits in a distinctive container." It's not so easy to know what is and isn't distinctive. The regulations use the term "distinctive" many times, and even explain the requirements for distinctive bottles, but they don't explain when bottles are and aren't.
It is good to know that Jim Beam Brands, at least, still knows how to do this right, and can serve as a good reminder to others. The above Stillhouse Decanter certainly appears to be — on the distinctive side — for a bottle. And alas, the corresponding approval is here; item 18.c. seems to be duly completed to verify that the bottle is both distinctive and approved.
Beam's press release puts things in perspective and explains that even Jim Beam does not use distinctive containers especially often anymore:
Mirroring the Jim Beam American Stillhouse in design, the new figural bottle revives a storied piece of Beam history, while offering whiskey enthusiasts and collectors the opportunity to add to their collection for the first time in more than a decade. … "Since the early 1950s, hundreds of Beam decanters have celebrated politics, sports, history and more." … "Beam decanters have come in all shapes and sizes," said Fredrick "Fred" Booker Noe III, seventh generation Jim Beam master distiller.
Individually hand-crafted by Louisville Stoneware, the Jim Beam American Stillhouse decanter joins hundreds of artfully designed, limited-edition decanters on display in the new Jim Beam American Stillhouse production tour. … Only 1,000 of the limited-edition Stillhouse decanters are available for sale (SRP: $199.99) … .
Originally created to help drive sales and offer bourbon fans more eye-catching packaging suitable for gifting, the specialty bottles and decanters were designed by the Regal China Company and introduced by Jim Beam to the public in 1955. For more than 40 years, the Regal China bottles celebrated many subject areas and reflected the rich traditions of Jim Beam Bourbon. Custom bottles were produced for the Jim Beam collectors' club chapters, which were formed in 1966 and are collectively known around the globe today as the International Association of Jim Beam Bottle and Specialty Club. Bottle production ceased in the early 1990s only to be brought back by Jim Beam in 2012.
The COLA Registry search does not make it easy to find distinctive container approvals, so here is one more example of such a decanter (from a shelf at TTB). And here are some other examples from this blog.