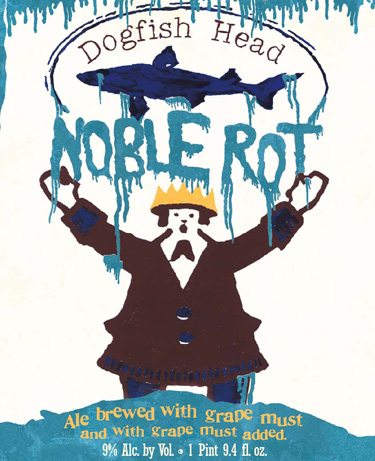 Shanken News Daily recently alerted us to Dogfish Noble Rot. It is:
a wine/beer hybrid that combines traditional barley, hops, water and yeast with winegrapes. Named for the grape fungus botrytis, which is associated with Sauternes and Tokaji dessert wines, Noble Rot uses Viognier and Pinot Gris grapes sourced from Washington's Alexandria Nicole Cellars. The 9%-abv offering will be available in about 27 states this week, priced at $13 a 750-ml.
The statement of composition on this product looks a bit redundant, with two references to grape must — but upon closer review it nicely underscores the distinction about adding the grape must before and after fermentation. I wonder if the must added before fermentation could or should be considered wine. Dogfish explains:
The first addition is unfermented juice, known as must, from viognier grapes that have been infected with a benevolent fungus called botrytis. This noble rot reduces the water content in the grapes while magnifying their sweetness and complexity. The second is pinot gris must intensified by a process called dropping fruit, where large clusters of grapes are clipped to amplify the quality of those left behind. "This is the absolute closest to equal meshing of the wine world and the beer world thats ever been done commercially," says Dogfish's Sam Calagione.
The Washington Post apparently saw this beer a long time ago and added many crucial details:
Thousands of years ago, notes Sam Calagione, our distant ancestors didn't draw a semantic line in the sand between beer and wine. Whatever fermentables they had, whether grain or fruit, went into a common pot to produce their unique tipples.

What is noteworthy is that the grapes and the grain each contribute about half of the fermentable sugars.
Given that beer and wine are taxed and regulated differently, did Calagione get any flack from alcohol regulatory authorities? "The only challenge was that the TTB [Tax and Trade Bureau] wanted a better description of at what point we added the grapes," noted Calagione. For the record, the botrytis-infected must (the unfermented grape juice) is added after the boil, and the pinot gris juice post-fermentation, primarily for extra aroma.
Calagione estimated that he made about 4,400 cases of Noble Rot and expected it to linger on shelves until May. He anticipated prices of $12-13 for a 750-mililiter bottle. That will scarcely recoup his costs, he added. "I paid $62,000 alone to transport a tanker truck of temperature-controlled grape must from coast to coast," he noted.
Aside from the joy of experimentation, Calagione confesses that he had another reason for producing this beer: "We always wanted to see if a beer with the word 'rot' in the name would actually sell."
We've seen plenty of beers and whiskies aged in wine barrels, and beers that look like wine and we will be on the prowl for actual beers with actual wine added. It sounds better than wine with beer added.