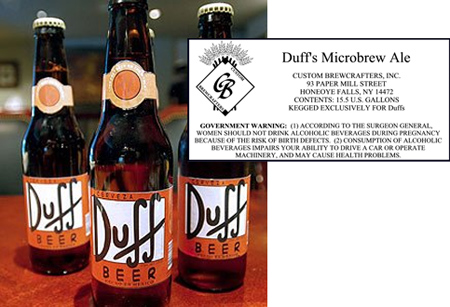 A few days ago Liqurious reported a Duff Beer sighting. It appears to be the real thing. There is a video review at iFoods.tv and there is a Duff Beer website here. But alas, this beer will remain a figment of the cartoon. There is nothing very similar approved in the TTB database. The nearest thing is the above keg label, for the beer at Duff's famous wing restaurant in Buffalo, New York (near and dear to Robert's heart as it was a mile from the law school campus). We are unlikely to see Homer Simpson's favorite beer anytime soon, at least in the US. Matt Groening (creator of The Simpsons TV show) has stated that he will not license the Duff trademark for a real beer, over concern that it would encourage kids to drink. Fox TV and Groening sued an Australian producer of Duff in 1995.
The court concluded:
My conclusion is that the breweries have engaged in a course of conduct calculated to achieve and exploit a strong association between their use of the name "Duff Beer" and "The Simpsons", which in fact is deceptive, while at the same time, hoping to avoid legal liability. In fact, their hope of avoiding legal liability were not realised in that they have breached the Act and the charge of passing off has also been made out.