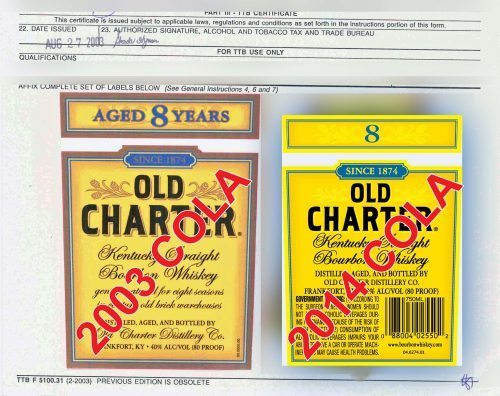 The plaintiff in a would-be class action lawsuit against Sazerac voluntarily dismissed all his claims in late January, ending the litigation. The case (Parker v. Buffalo Trace Distillery, Inc. et al.) began in November of last year, and concerned a subtle change on the label of Sazerac's "Old Charter" brand of bourbon whiskey. The older and newer labels are above, side by side.
Among the various changes, the old label says, "AGED 8 YEARS," while the new label simply displays the number "8."
Plaintiff Nicholas Parker alleged that the Old Charter bourbon sold under the new label was no longer aged for 8 years, and that Sazerac's continued use of the number "8" on the label caused consumers to believe that the bourbon was aged for 8 years. Sazerac responded with a motion to dismiss the complaint, alleging that Alcohol and Tobacco Tax and Trade Bureau (TTB) approval of the label provided Sazerac with a "safe harbor" from Mr. Parker's claims.
Just two weeks after Sazerac filed its motion to dismiss, Mr. Parker voluntarily dismissed the action. This voluntary dismissal meant that the court did not have to rule on the merits of Sazerac's safe harbor defense, or Mr. Parker's claims. If the Tito's "Handmade" Vodka cases are any indication, it is likely that the safe harbor defense would not have insulated Sazerac in this case. It would seem that the parties reached a settlement, although the terms of any such settlement will likely remain private. Old Charter drinkers should keep an eye out for future label changes, which might indicate the terms of a settlement reached.
The voluntary dismissal notwithstanding, Mr. Parker's claims raise an interesting issue: Shouldn't TTB have a policy for this sort of thing? As it turns out, TTB does. TTB's general stance has been that unexplained numbers on spirits labels are prohibited. That is, if you want to say "8," you need to explain the significance of the number (e.g., "AGED 8 YEARS," or "A BLEND FROM 8 BARRELS"). Take Jack Daniel's, for instance: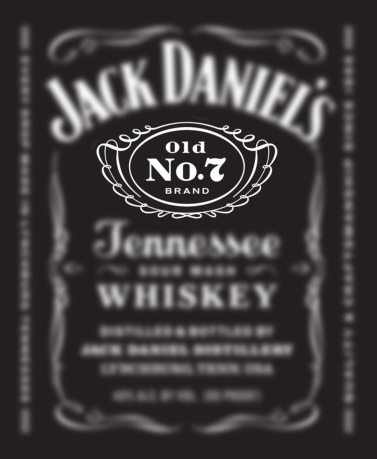 While the number "7" appears prominently, the context (i.e., "Old No. 7 Brand") makes it clear enough that "7" is part of the brand name, not the age of the spirit.
Re-examining the Old Charter labels, the new label does not seem to fall in line with TTB's tenet. Although Sazerac's incorporation of the unexplained "8" did not lead to a label rejection in this instance, it probably goes a long way toward explaining why Mr. Parker pounced on Mr. Brown.