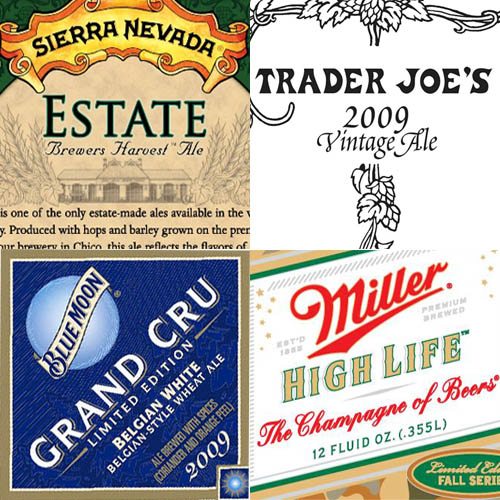 At a 2009 National Alcohol Beverage Control Association (NABCA) panel discussion, Boston Beer Company's Jim Koch boldly proclaimed that "beer is the new wine."
According to Wine and Spirits Daily, Koch said:
With the emergence of the new mentality about beer driven by small craft brewers, America is starting to create a beer culture in the same way America has created a wine culture.
Is Koch right? The labels tell part of the story. Lately there are many examples of beer labels with terms and elements formerly associated only with wine.
First is Sierra Nevada's Estate Brewer's Harvest Ale. TTB sets forth strict rules for wine labeled with the word "estate." One such rule is that the wine must be produced from grapes grown on land owned or controlled by the bottling winery. According to Greg Kitsock of the Washington Post, Sierra Nevada produces their Estate Ale with hops and barley grown only at their brewery in Chico. The label adds that "this ale reflects the flavors of our surroundings in California's fertile Central Valley."
Second is Trader Joe's 2009 Vintage Ale, produced by Unibroue of Canada. For wine labels, it is clear that a vintage date means one thing: the year in which the grapes were harvested. What exactly does it mean on beer? The Trader Joe's label tries to explain. "You might be used to seeing vintages on wine; perhaps not so much on beer. And that's what makes this ale so special." The label also says that the 2009 Vintage Ale was produced in 2009, in limited quantities, and that it tastes and looks different than those released in previous years.
Third is Blue Moon Grand Cru Limited Edition from MillerCoors. The labeling takes design cues from traditional Champagne labels. It has a vintage date and also mentions "Grand Cru" (meaning "great growth" in French), which is a term generally associated with French wines. Our last and maybe most famous example is Miller High Life, "The Champagne of Beers."
From a labeling and marketing standpoint, it appears that some beers are trying to develop the same prestige that wine enjoys with the American public. So Koch may well be right. After all, he sells a single bottle of beer for $150, a price near or above that for many of Napa and Bordeaux's finest.